Vanessa Wieland, blog author, online community editor and dean of Family Tree University, part of the Family Tree Magazine family, has shared this blog as part of our ongoing "How I Solved It Series".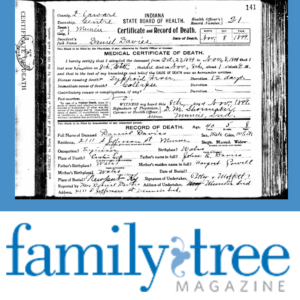 This great blog is about how Vanessa tries to confirm the family story of being crushed to death between rail cars and finds much information that actually disproves the story but does find the names of previously unknown parents.
A Genealogical Death Investigation
My grandfather had plenty of stories about his grandmother, Elizabeth, who lived quite a long and eventful life. Her husband, Daniel Davies, on the other hand, we know very little about; only that he died not too long after coming to the US from Wales.
According to the story, Daniel was a railroad engineer working in Indiana. While on the job, he was crushed between two rail cars they were trying to join together. Tragically, this death occurred just months before his youngest child was born, leaving my great-great-grandmother to raise her children alone. I decided to perform a genealogical death investigation to see if the story was true.
First, I tried a few basic Google searches in the hopes that a story would jump right out. However, genealogy is rarely that straightforward (and where would the fun in that be?). The search turned up nothing of value.
Establishing a Foundation Using Census Records
We have a census record taken for 1900 on the seventh of June in Newport, KY that already lists "Davis, Lizabeth" as widowed and head of household. It lists all of her children with Daniel (including my great-grandparent, William). Her youngest daughter, Ethel, was born in May 1900. Given that conception would most likely have taken place in September 1899, we have a 9-month window for Daniel's death. So far, this matches the details in the family story.
Digging into Death Records
Having a time frame established for his death meant that I turned toward finding any death records. A search on Ancestry.com for deaths in Indiana during that time frame brings up a record of death on 8 November 1899 for a Daniel Davies in Centre Township, Muncie, Delaware, Indiana.
The information contained within the certificate lists his age as 40 years old, married, from Wales and buried in Newport, Ky. His occupation is listed as Engineer.
But here's where the record conflicts with what we know (or think we know): the cause of death listed is typhoid fever. Is this the certificate for the right Daniel Davies?
The next step I took was to look for death records and burial records in Kentucky to see if anything else would match a name and that time frame. No Kentucky death records showed in the results, but I did get a hit on burial records. Find A Grave has a listing for Daniel P. Davies at Evergreen Cemetery in Southgate, KY. The gravestone itself only has his name and years of birth and death and only one photo of the headstone itself. There's more information on Elizabeth Samuels Davies. Each of the pages only had one picture of their headstone so I decided to take advantage of a lovely fall day and headed to the cemetery to see if the graves were side-by-side.
Not only are they next to each other, but they are next to two of their daughters with a third nearby. This establishes that the Daniel P. Davies listed on Find A Grave is my great-great-grandfather and the year of death matches the information on the death record we found.
Newspapers and Other Research
I still wanted to check some other resources to see if any hits came up for reports on railroad accidents in Indiana during the year of 1899. Searching on Chronicling America came up empty, as did Newspapers.com and the Cincinnati Enquirer through the Kenton County Public Library system. Searches on his name in articles and obituaries also came up empty.
A search on Gendisasters.com turned up four results. Of them, two were before his daughter would have been conceived, and of the remaining two, the McCools Station wreck in November listed seven names, none of them a Daniel Davies. The October collision in Brookfield has only one potential (human) fatality.
Conclusions and Next Steps
In this case, what I didn't find is just as important as what I did. There's no evidence to support that he died in a train accident. There are three generations of railroad men in my family – Daniel, my great-grandfather William, and my grandfather. It's possible that if there was an accident, it was someone they knew or had heard about, which then got combined into one story through the tellings. Given the dates and information found, it's far more likely that it was typhoid fever that caused his death. I'll continue to search for more records that either refute or verify this result.
My next step is to search for railroad records for Daniel, starting with what I can find about the Fort Wayne, Cincinnati & Louisville railroad. The death record also provided some parents' names, which will take my research across the pond to Wales.
If you have a story idea or a blog that you'd like to share as part of this series, please let us know about it in the comments.