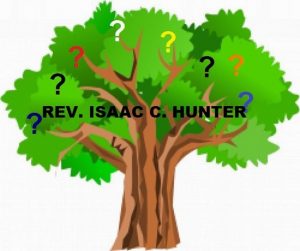 Sometimes you search high and low and you find lots of information about your ancestor, but no proof about their ancestry. Such is the case—so far—of Rev. Isaac C. Hunter for Diane Gould Hall at Michigan Family Trails. The Reverend was a traveling preacher in the emerging Ohio and Michigan territories. He left traces of his ministry, but little record of his parentage for Diane to follow. Here's what she's done to solve it so far. Do you have any other connections or suggestions for her?
____________________________
Bio for Isaac C. Hunter
Rev. Isaac C. Hunter is my 3rd great grandfather on my mother's side. From all accounts he was born 30 Aug 1798 in Bellefonte, Mifflin, Pennsylvania. By 1828 he had moved to Lawrence County, Ohio where he married Emily GILLEN on 11 Sept 1828. They had 5 children: Susan, James, Martha, Isaac C. Jr. and John E. Isaac was an itinerant preacher in the Ohio and Michigan territories. He died 27 Jun 1842 in Gallipolis, Gallia, Ohio at age 43.
Finding any records in Pennsylvania in those early years is not easy. I've not yet made a trip to Mifflin County. However, I have been in contact with their historical society volunteers and they were not able to find anything about Isaac C. Hunter's birth.
By the 1830 census we find Isaac C. Hunter living in Burlington, Lawrence, Ohio with his family. In the 1840 census he and his family are in Perry, Pickaway, Ohio.
Here are those census records:
(CLICK ON ANY IMAGE TO ENLARGE IT)
Rev. Isaac C. Hunter was a Methodist Episcopal Preacher.
Quite a lot has been written about the Rev. Isaac C. Hunter and his ministry. He seems to have been quite well respected.
A history of his ministry:
Age 20 – 7 Aug 1819 – Admitted to trial to Methodist Episcopal ministry at the annual conference in Cincinnati, Ohio. Appointed to the Beaver circuit.
Age 22-23 – about 1921 – Became a Deacon in the church
Age 23-24 – about 1823 – Became an Elder in the church
Age 24-43 – Was an itinerant preacher throughout the Ohio & Michigan territory
Here are some of the many documents I have regarding Rev. Isaac C. Hunter and his ministry.
THESE FOUR PAGES ARE ARTICLES FROM THE IRONTON REGISTER IN OHIO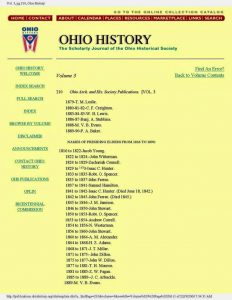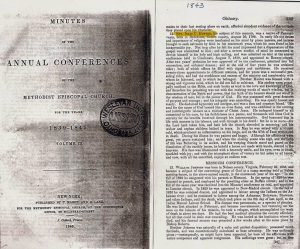 THESE NEXT FIVE PAGES ARE THE OBITUARY WRITTEN BY A FELLOW PREACHER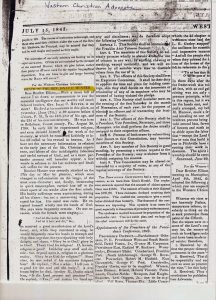 As you can see, I have quite a few publications and articles about my 3rd great grandfather, his ministry and his death.
Sadly, none of them mention his parents.
Here is the family group record in my Legacy database.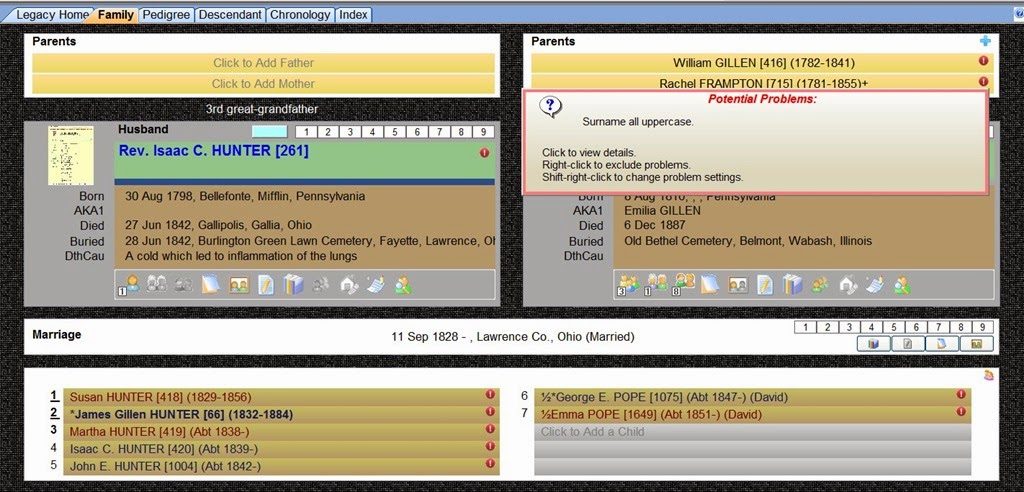 It is difficult to locate records from the late 1700's and early 1800's in Pennsylvania. Actually, it's difficult in most states during that time period. Church records can be a great help. In this case, you'd think there would be a church record. I have not exhausted all sources at this time and hope to continue this search at the FHL in June.
I have tried the following research methods to locate any possible records:
Searched land records and located one at the BLM land site for Isaac Connely Hunter in Ohio. Certainly could be our Isaac C. Hunter, but I cannot prove it.
Searched the 1790 & 1800 census records for any Hunters in Mifflin or surrounding counties. Located a couple of "possibles" but, again, have yet to find proof.
Googled "Isaac C. Hunter" and found several book references, but none mention his parents.
Posted message to online forums in Pennsylvania and Ohio on Genealogy.com
Searched the Mifflin County Historical Society webpage and located a few Hunter men, but have not connected them.
Looked through images of Ohio Probate Records 1789-1996 for Gallia, Journals & Wills 1831-1844 and 1841-1849 and found no Hunters.
What would you do next?
What have I missed, short of traveling to Mifflin County?
I welcome any and all suggestions from my very knowledgeable readers.

If you think you might be related, even remotely, to anyone mentioned in this blog, please contact me!

OTHER POSTS THAT YOU MAY FIND INTERESTING
SIBLING SATURDAY – The Hunter Sisters
DEATH CERTIFICATE OF Joseph Jackson Hunter – age 25

Happy hunting,
Michigan Girl
This is the third post in my series about brick walls in our family. You can find the other posts here:
Mystery Monday-Who's Your Daddy-Post #1 – John C. Gould
Mystery Monday-Who's Your Daddy-Post #2-Robert Lee Bowden
*******************************************************
You can read Diane's original post about Isaac, with comments, at http://www.michiganfamilytrails.com/2015/04/mystery-monday-who-your-daddy-brick.html as part of her MYSTERY MONDAY – Who's Your Daddy? series.
If you have ideas or stories to share in our RootsFinder "How I Solved It" series, please let us know!