I take a particular joy in traveling to my ancestral homes to stand where my people once stood and see the earth from their perspective. Along with cemeteries, local libraries are on the top of my list of places I *must* stop while traveling because even though I live near the largest genealogical library in the world, I can't begin to match what's in a local librarian's brain…or her vertical files.
A vertical file is a fancy name for "file folder full of [potentially magical] information gathered from local sources, non-local sources, patrons near and far, and other snips and tidbits most likely pertaining to the subject and their relatives which may be of interest to a library patron, or at least the librarian and her staff."
You never know what a vertical file will contain. Like snowflakes, no two are identical. In the case of my Mary Houts, I had a bit of a mystery on my hands, and I was hoping a visit to the Crawford County library in Robinson, Illinois would help. I'd come in search of the headstone for Mary Cox in York Cemetery. I had come to believe this could be the final resting place of Elizabeth Colton Mayfield's mother.
This is Elizabeth Colton Mayfield (front row, left) in a four generation photo I inherited from my grandmother
The entry on Find A Grave for Mary Cox didn't have a photo at the time. It also didn't have great information; it just said May [sic] Cox died 9 Dec 1839 at the time. I wasn't even sure she was mine, but it was the best match I could find. I wanted to find and photograph the grave, but at first I couldn't. I searched for HOURS. I couldn't find it. I was bummed out. The person who initially added the information to Find A Grave said it had come from some local cemetery records. So I went to the local library to see what else I could find.
My Dr. John Thomas Mayfield had married Elizabeth Colton in Crawford County, Illinois in 1850. Of that I was sure.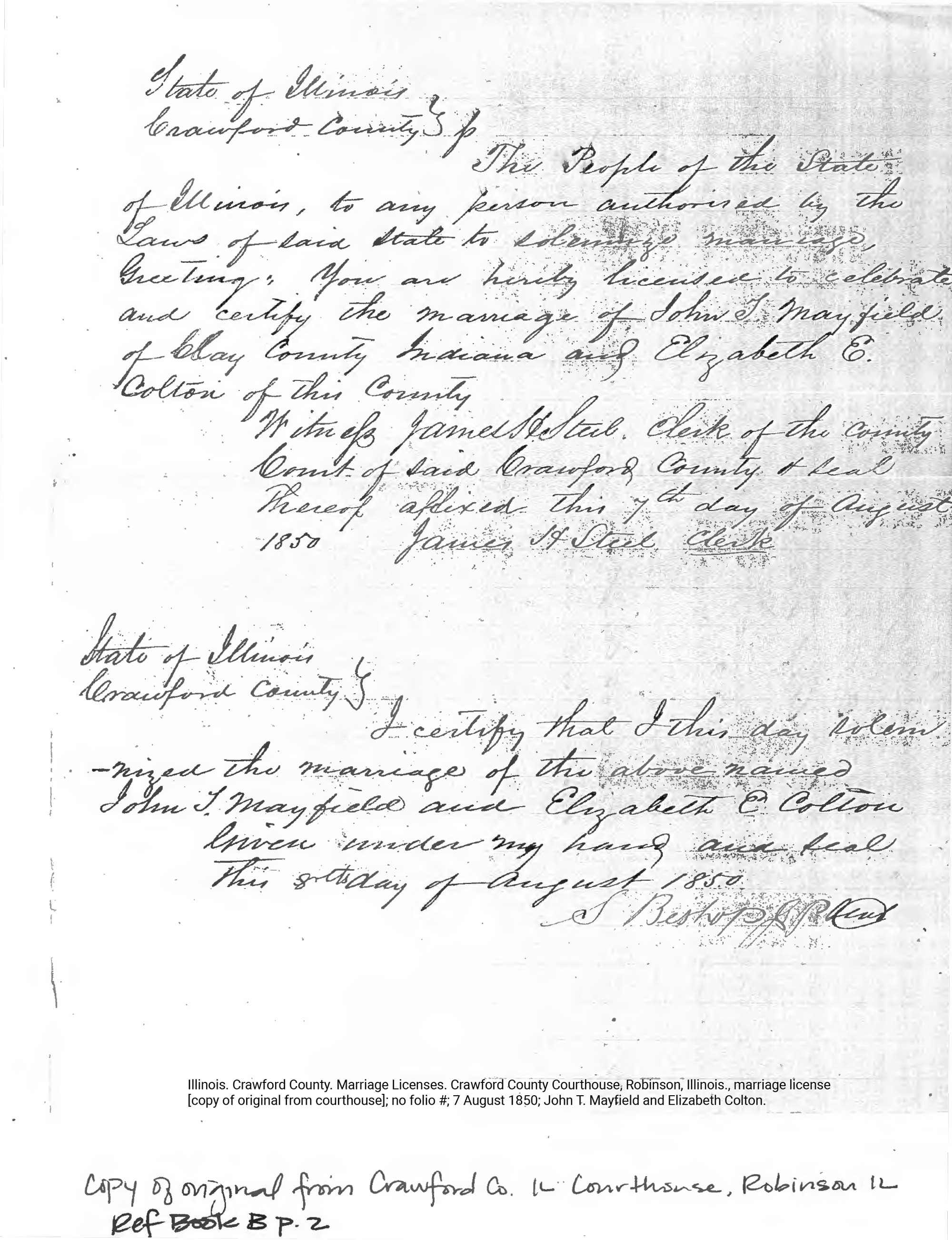 Illinois. Crawford County. Marriage Licenses. Crawford County Courthouse, Robinson, Illinois., marriage license [copy of original from courthouse]; no folio #; 7 August 1850; John T. Mayfield and Elizabeth Colton.
But information about Elizabeth's parents was in short supply. According to Elizabeth's death certificate, her parents were Mary Houts and [unknown] Colton. The informant was Mrs Stella Ward, who I happen to know was Elizabeth's daughter.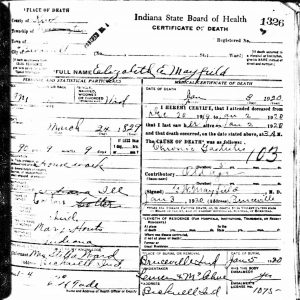 Ancestry.com, "Indiana, Death Certificates, 1899-2011," database Ancestry.com (http://www.ancestry.com : accessed 16 Oct 2018), entry for Elizabeth E Mayfield died 3 Jan 1920, Knox Co., Indiana Registered No. 1326; citing Indiana State Board of Health. Death Certificates, 1900–2011. Microfilm. Indiana Archives and Records Administration, Indianapolis, Indiana.
I discovered that Elizabeth Mayfield nee Colton had the genealogical pleasure of being enumerated twice in 1850…once with her family and once with her new husband:
Left: 1850 U.S. Federal Census, Haddon Twp, Sullivan, Indiana, population schedule. Page stamped 201, Household #[36], Family #37, Isaac Shannon; digital image FamilySearch.org. (http://www.familysearch.org: accessed 18 Oct 2018); citing NARA microfilm publication M432, 1009 rolls.
Right: 1850 U.S. Federal Census, Lewis Twp, Clay, Indiana, population schedule. Page written 518, Household #228, Family #229, John T. Mayfield in household of James Briley; digital image FamilySearch. (http://www.familysearch.org: accessed 16 Oct 2018); citing NARA microfilm publication M432, 1009 rolls.
In the second enumeration, 23 August 1850, she's with Dr. John Thomas Mayfield, in Clay County, Indiana. In the first enumeration, on 6 August 1850, in Haddon Township, Sullivan County, Indiana, she's in the Isaac Shannon household. This was the day before her marriage license was issued across the river in Crawford County, Illinois on 7 August 1850. Technically, the second enumeration is the one I found first, because I was looking for her with her husband Dr. John Thomas Mayfield or with a mother named Mary–and I didn't find her with a mother named Mary. If I'd stopped at the Clay County enumeration, I would have been stymied. Instead, I looked for more Coltons and when I saw her, I looked at these two and said "Is it possible she was enumerated twice???" and pressed on!
Since these two locations are separated only by a bridge I can throw a stone across, the geography doesn't bother me. What's really important here is the presence of Elizabeth Houts age 65, born in Maryland. That's exciting! Who is she? She must be my Elizabeth's grandmother and namesake. But is this really "my" Elizabeth Colton Mayfield enumerated twice, I wondered? I had Colton (her maiden name) and Houts (mother's maiden name according to death certificate) in the same place, so there was a good chance it was mine, but no proof. The answer came when I found the biography of Arthur William Hand from the Crawford County Illinois Historical Society, which linked these families together for me.
Mary Houts, the oldest child in the family was a sister of Isabel Houts, who married John Hollenbeck, and was the ancestor of Judge Hollenbeck of Marshall, Ill. Another sister of Mary Houts was Eliza Ann Houts, who married Isaac Shannon, was the mother of Woodford Shannon of the Shannon Spring Bed Mfg. Co. of Louisville, Ky. "Aunt Liza" Shannon and her two nieces, Mary Jane Cox Hand and Harriet Lindley, were as "alike as peas in a pod" according to the older people who knew them.

The parents of Mary Houts were John Houts, born in Pennsylvania in 1787 and died Nov. 14, 1834 in Kentucky (in the old "Dutch settlement" near Danville, Ky.), and Elizabeth Cook, born in Maryland March 1, 1785, married in Kentucky, and died there August 16, 1850. It is fairly certain, except for a slight discrepancy in given names, that the parents of John Houts were Christopher George Houts (Eliza Ann Shannon, 1822-1916, insisted that this individual went by the name of Jacob, regardless of his army record, etc.) and Maria (Mary) Brocaugh Jansen (Johnson). Christopher "Jacob" Houts volunteered for service with General George Rogers Clark in his expedition against Kaskaskia and Vincennes, served throughout the entire campaign, and was one of the soldiers under Captain Helm at the battle of Point Coupee on the Wabash, March 3, 1779.

This Revolutionary soldier, who also served as quartermaster in the War of 1812 under General Andrew Jackson, was a great-grandson of Thomas (Hondts) Houts, baptized in the Dutch Church, New Amsterdam, April 14, 1658. Thomas Houts married Elsie Jane in New Amsterdam in 1682. She was probably a granddaughter of the Annetje Jans who died in 1663. There has long been a tradition in the family that we were "heirs" to the Annetje Jans estate of about 67 acres which now constitutes the Trinity Church Estate in New York City."

[Source: Crawford County [Illinois] Historical Society, Biographies (http://sites.rootsweb.com/~ilcchs/Biographies/ArthurWilliamHand.html: accessed 16 Oct 2018), Biography of Arthur William Hand.]
This gave me all kinds of clues and assured me that Crawford County, Illinois was the place to be. So I did what any genealogist would do at 1:00 in the morning: instead of sleeping, I shook down FamilySearch, Ancestry, Fold3 and other sites for everything I could shake. By the time I was finished and the sun was up I had BLM GLO land records, a War of 1812 widow's pension for Elizabeth Houts (THE Elizabeth in the 1850 census, "My" Elizabeth's namesake!) and of course the aforementioned censuses and biography. Which had led me to the Find A Grave entry for May [sic] Cox in York Cemetery.
I had a lot of good information. But now fast forwarding to my visit to York County cemetery: I didn't have a headstone. I couldn't even be sure the May [sic] Cox in York Cemetery I was visiting was the Mary I had come looking for.
So with great hope, and little bit of background information, I stood at the Crawford County library in Robinson and said "Can you help me?" And together we peeked in the vertical files to find that the answer was yes! It wasn't a very big file, but when I opened it, out came genealogical gold: a probate file containing information about the partition of John Houts's land in Crawford County, one page of which reads:
John Houts late of the
County and state aforesaid decd intestate, departed this life seized
of the following lands and tenements situate lying and being in the
County and State aforesaid and known and described as the N.E. ¼
of the S.E ¼ of Sec 1 and the SE ¼ of the SE ¼ of Sec 1 both in T. 8 N
of R 12 W and each containing 40 acres as also all that part of the
S. W. ¼ of Sec 6 in T 8 N of R 11 W that lies on the South side of
Racoon Creek and containing about forty six acres. Your petitioners
further shew to Your Honor that the said John Houts left a
widow to wit Your petitioner Elizabeth Houts, and the following named
children and Heirs…

Crawford County, Illinois, Petition 16 Feb 1841, Box 91, File 71 Houts Elizabeth et al vs Lucilla J Houts et al; in folder: "Houts," vertical files; Crawford County, Illinois Public Library in Robinson, Illinois.
And it proceeded to provide documentation supporting the family members named in the biography I had previously found, and many more. Genealogy happy dance! (Thank you, librarians and interested patrons! I would like to think that after a diligent search of court records I would have come across this myself but THANK YOU for making the discovery so swift and authoritative, right when and where I needed it!)
Also, as usual, the library had maps. Maps are so helpful! With their awesome map, I was able to determine where exactly the Houts's land was. It was just south of West York!

So it would stand to reason that Mary Cox, widow of Nathan Colton and nee Houts, could be buried in York Cemetery. Great! Maybe I should just go back to York Cemetery and look one more time. Typical to old cemeteries, there were some used-looking empty spots and fallen/deteriorated stones. I'd looked at them once but I wasn't even convinced this was my Mary to begin with so I hadn't spent too much time in the hard spots. Maybe it would be worthwhile to just go through them one more time.
So I did. And guess what I found. Yep, she was there. It was hard to see. I probably walked past it 20 times and didn't realize this was the Mary I was looking for, but eventually I found it. I (very gently) rubbed some mud on her stone to get some contrast and got my picture I had come for.
There's much, much more to do, but the way has been paved and DNA results are popping up on the Houts line. I'm excited to see how far I can take it. I'm sure, before I'm through, I'll stand in many more libraries in front of many more filing cabinets and say "Can you help me?" To librarians around the world, past, present, and future: many, many thanks!