In today's "How I Solved It" post, guest blogger Maggie Stevenson from Kin Histories shows how DNA research can point you in the right direction, but must be accompanied with a solid paper trail to prove relationships. By sharing her tree, Maggie connected with someone who held the answer to her mystery. Here's what happened:
____________________________
Late last year I was able to confirm the missing part of the story of Mabel Fanny Earley, the housemaid from Barrhill, Ayrshire who was my husband's great-grandmother. I've blogged about her several times, here and here as well as the DNA match that lead me to a family of 4 brothers, with one of them being the potential father.
Finding descendents of those brothers and seeing photographs of them went a long way towards solving the story. Despite that, I thought I would never truly be able to figure out which brother was the father of Mabel's son. Even if I was able to trace descendants of the other brothers and DNA test them, the passage of time was not on our side. The amount of DNA shared between my husband and any other grandchildren or great-grandchildren of the brothers would be inconclusive. Why is that?
As every generation goes by, we lose some of our ancestors' DNA. You get 50% of your DNA from each parent. On average, a grandchild compared with a grandparent would show on average around 25% shared DNA. In reality it could be anything from 18% to 32% according to the chart that I often use, put together by Christa Stalcup. DNA is passed down randomly rather than in precise measurements. Your sibling may share more DNA with a grandparent than you do. It's all very confusing when you first delve into it.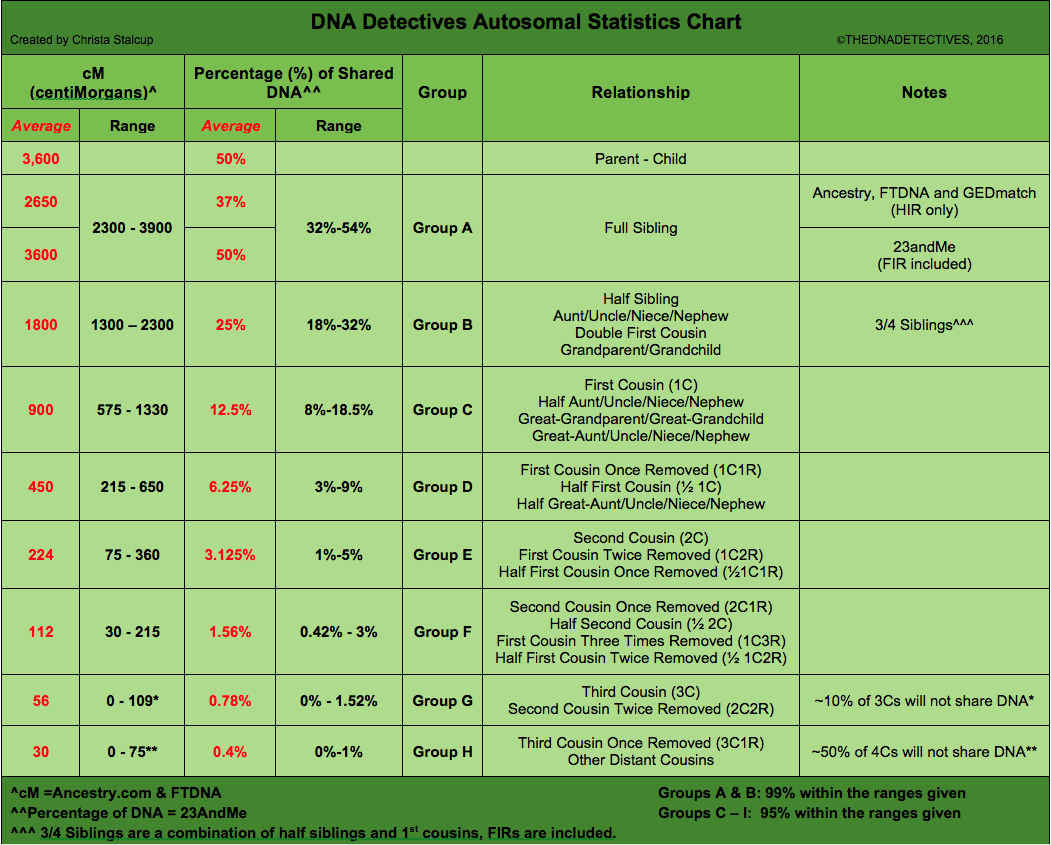 (Chart created by Christa Stalcup/ DNA Detectives showing the ranges of shared DNA for common relationships).
The analysis of DNA involves drawing a lot of charts and knowing the ins and outs of "relatedness." You have to be sure that you know the difference between a first cousin and a first cousin once removed, for example. Or what makes you a half-aunt not an aunt? Why are you twice removed from this person rather than once? All of these relationships will put you at a different place on a family tree, and each different level of relatedness may mean a change in the amount of DNA shared.
I keep a public tree on Ancestry for my husband, and I had added the 4 Stevenson brothers from Barrhill to the tree along with their dates of birth, indicating that paternity was unresolved. I had also seen that a few DNA matches had appeared for my husband on Ancestry.com with the last name Stevenson. They appeared to be descendants of at least one of the brothers in question. I resolved to contact them and see if my story made any sense. Time passed and I did not get round to that.
Then one day at the beginning of November, another Stevenson contacted me from New Zealand. He had seen the tree and was wondering how he was connected to my husband. So I explained Mabel's story, unsure whether I would get any response.
But this Stevenson cousin magically produced the other half of the story from his family documents, in the form of a letter written by one of his uncles, relating some family history to another family member. Here is the extract from the letter that tied everything together and gave me the name of the father of Mabel's baby:

So…in a word, he scarpered, rather than stay and do the honorable thing. "Lord Beale", wasn't just Mabel's employer (possibly also John Stevenson's employer) – he most likely also owned a lot of the land and dwellings around Barrhill and his word would carry considerable sway. On top of that, he was also the MP for south Ayrshire. It seems he was a force to be reckoned with. John (aka Jack) made a hasty departure, which unfortunately makes him look very much like the guilty party.
In terms of "absolute proof', I would be on shaky ground here. The letter was written several decades ago; the story itself was hearsay from way before that. There are many apocryphal stories in family recollections. The DNA at this point cannot separate the descendants clearly enough to decide one way or the other. I do know that Mabel's baby grew up using her maiden name – Earley – yet changed his name to Stevenson in later life. The 4 Stevenson brothers also had a sister, Annie. One of her children was a witness on the marriage registration for Grandfather Earley/Stevenson. So clearly the families knew each other. It seems likely, then, that Mabel was sure who the father of her baby was, and always made sure that her son knew too. The story provided in the New Zealand letter makes sense. John didn't have any more children and was quite young when he died in New Zealand. The remaining brothers joined him a few years later. They married and had children. Their children had children. This is the generation currently turning to DNA testing for use in genealogy.
There is one more mystery to the story of John Stevenson yet to be addressed. More of that next time.
*******************************************************
You can read Maggie's original post and more about Mabel at https://kinhistories.wordpress.com/2018/03/31/it-was-all-in-the-letter/. You may particularly be interested in Maggie's post about how she traced Mabel back to the four Stevenson brothers using DNA research, which is here: https://kinhistories.wordpress.com/2017/04/26/meet-the-family/
If you have ideas or stories to share in our "How I Solved It" series, please let us know!