Next time you're hunting for a birth registration, consider the case of Eizik Fuchs. Lara Diamond (larasgenealogy.blogspot.com) shares this story for our "How I Solved It Series" giving Eizik a [posthumous] award for going through the most difficulty (and time…and distance…) to get his birth registered.
___________________________________________
And the award for going through the most difficulty to get a birth registered goes to….Eizik Fuchs, the brother of my great-great grandmother Rochel Fuchs Rutner!  Eizik's journey to get his birth registered spanned an ocean and more than seven decades.  When I started writing this post, I wasn't sure why he would have done such a thing, but in the course of writing this post, I figured it out!

In 1913, Josef Joshowitz (my great grandfather) came to America, and he said he was joining his cousin "Eizig Fuchs" in New York.  I knew of my family's Fuchs connection but was never sure how Eizig was related.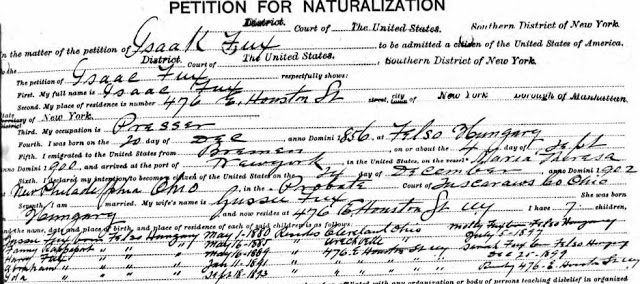 Isaak Fux petitioned for naturalization in 1909–and he was living at the address listed on Josef Joshowitz's ship manifest, so this is the right guy.  He listed his seven children and his wife Gussie.  All had been born in "Felso, Hungary," with Issak born in 1856.  Felso simply means "upper" in Hungarian and is generally appended to a town name.  My Fuchs family is from Felso-Neresnicze (today's Novoselitza, Ukraine), so perhaps that's what was meant?
Isaak's wife Gussie died in 1919.  Isaak went to Europe to remarry, and his second wife's naturalization paperwork help to clarify things.

Chanta Fux confirmed that Isaak Fux was, indeed, born in Novoselitza in 1857.
I have an Eizik Fux who was born in Novoselitza about 1856.  He was my great-great grandmother's brother.

Eizik Fux registered his ~1856 birth on September 1, 1930.  But I know for a fact that Isaak Fux (who eventually became Isaac Fox) lived in the US from 1900 until his death in 1934.  So perhaps there were two Isaac/Eizik Fuchs around the same age in the same town?  Definitely could happen.
Except that Isaac Fox's death certificate recorded his parents:

Isaac Fox's parents were Harry (a common English version of Hers) and Mollie (i.e. Malka) Viesel.  Essentially identical to Eizik's birth record, so Eizik Fux and Isaac Fox were the same person.  Where was Isaac Fox in 1930?

In April 1930 Isaac was living with his daughter Sarah and her family in the Bronx.  So why was he going to Czechoslovakia (as Novoselytsya was in those days) to register his birth at the age of 74?
But then I looked closer at his wife Chanta's naturalization petition:

Isaac married Chanta back in Europe in 1930, 15 days after registering his own birth.  Sure enough, I found a record of his sailing home.

Isaac returned from Europe on November 29, 1930, as a married man.  When Isaac married in Romania (Novoselitza was right on the new border between Czechoslovakia and Romania), he must have been asked for proof of birth, which he didn't have.  So he had to register his birth 74 years later in order to be able to get remarried!
Although he'd been a US citizen for over 20 years and had applied (successfully) for several US passports, his hometown didn't even recognize that he had been born.  But 74 years later and 4500 miles away from home, Eizik Fux/Isaac Fox's birth became official.
Note:  I'm on Twitter.  Feel free to follow me (@larasgenealogy).
*******************************************************
You can read Lara's original post, with comments, at https://larasgenealogy.blogspot.com/2016/04/award-for-greatest-distance-and-time.html
If you have ideas or stories to share in our "How I Solved It" series, please let us know!