In this two-part series, the experts at Legacy Tree Genealogists share some valuable tips on how to tackle the "unknowns" that can surface as a result of DNA testing. Their team has handled many tough investigations over the years, and they've learned some tricks they're willing to share with RootsFinder users. Here's Part 1 of "Right Person, Right Place, Right Time: Using Document Evidence to Resolve the Unknown in your DNA Results," by Legacy Tree Genealogists:
________________________________
Each DNA testing company warns that DNA testing can reveal surprises and previously unknown information about your family. In fact, customers of these databases make unexpected discoveries every day. These discoveries can be distressing and traumatic, but might also be exciting and compelling. As you navigate the emotions and reactions of this experience, we recommend the following resources to help. In other situations, the unknown in a person's family history could be the impetus for a DNA test. You might have tested because there was an unknown.
Some unknowns deal with immediate family circumstances. Maybe you find that you have a large ethnicity estimate from a region you weren't expecting. Perhaps you find that you and a close family member only share half the DNA you were expecting to share—or don't share any DNA at all. Alternatively, your DNA test might show you as a close relative to a complete stranger. Other discoveries might be in relation to more distant ancestors. A Y-DNA test might not include anyone carrying your own surname. A particular branch of your family tree may not be represented in your autosomal DNA test results, or a group of genetic cousins descended from the same family might appear as relatives to you with no immediately verifiable connection. If you tested in order to address an unknown, perhaps you were adopted and wish to learn more about your heritage. Maybe you never met your biological father, or perhaps a more distant ancestor was an orphan with unknown origins.
In all of these cases, in order to resolve unexpected findings and address unknown relationships in your family history, you must move beyond the initial DNA test results. Genetic genealogy requires consideration of all available evidence. Although your DNA test results may alert you to a potential family history mystery, to prove the exact nature of the situation you should consider at least some additional genealogical evidence and context. Additional investigation might also reveal that what initially appeared to be a surprise discovery was not altogether unexpected after all. Regardless, interpretation of your DNA test results in the context of your family history is only possible through consideration of both genetic and document evidence.
At Legacy Tree Genealogists, we assist clients with unexpected discoveries every day. Most often, the focus of our research centers around identifying the right people in the right place at the right time to explain a genetic relationship and the context of an individual's conception. We rely on multiple forms of document evidence in order to interpret and discover the meaning of unexpected or unknown relationships. We review some of our favorite record types for exploring these relationships below.
Family Information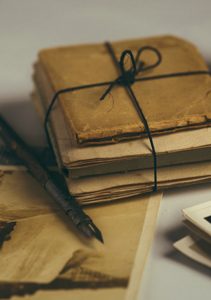 Often unexpected test results might spur a memory of a conversation, a family story or a filed away document which might cast light onto a genetic test result. Particularly for cases of recent misattributed parentage, family context may hold vital clues for future research. Close family members may have recollections from the time period of the conception. They might remember details of who a parent was dating, who the family's neighbors, acquaintances and friends were or other important clues or anomalies.
Conversations which previously seemed odd or mysterious might suddenly take on new meaning. Documents from the time period including letters, journals, and other papers might also give context to the activities and whereabouts of a parent at the time of conception. When exploring family information, genetic cousins should also be contacted and invited to collaborate with their family stories and information.
Bob's cousin uncovered an early 1900s photograph owned by their grandfather which provided valuable clues for proving that man's multiple identities.
After discovering that the man who raised him was not his biological father, Darien's half-siblings confirmed that their parents had been separated at the time of his conception. Later analysis resulted in identification of candidates living hundreds of miles a way from the family's residence, but in the same town as the Darien's maternal grandmother where the family often visited.
Jillian was surprised to find several unknown half-sibling genetic cousins, but found bills from a fertility and donor conception clinic upon reviewing her mother's files.
After Julia successfully identified her biological mother, she learned from new maternal family members that her mother had a relationship with a semi-professional athlete around the time of the conception. Though the athlete identified was not the biological father, another athlete from a competing team was.
Terry's sister remembered seeing a man who regularly visited their home in Malaysia. She did not think anything of it until her sister's test results revealed a half-sister relationship.
Jordan asked her mother regarding details of her biological father and contacted a likely paternal genetic cousin for more information. The match confirmed the identity of Jordan's father and offered additional family stories.
Adoption Records
In adoption cases, adoptees or other close family members may be entitled to their original birth-certificate, the adoption file, non-identifying information, family health history, or other adoption records. These should be obtained whenever possible. Even when the information obtained is intended to be non-identifying, the ages, family structure, causes of death, family origins, and occupations of family members mentioned can frequently narrow the pool of candidates. Some states and jurisdictions hold mutual consent registries for adoptees and biological parents.
Lauren identified her biological father using information from her non-identifying information file. Her father was identified as a high school gym teacher and there was only one high school in the town where she was born.
William was searching for information on his grandfather's adoption and found that the adoptive parents published a newspaper court notice to the biological mother around the time of the adoption.
Vital Records
Birth, marriage, death, and divorce records can provide important clues regarding unexpected family relationships. They might lend evidence to cases of misattributed parentage based on conception, marriage, and birth dates. They might provide context for cases of infidelity. They are also helpful for proving genealogical relationships between genetic cousins as they often provide some of the most direct evidence for family relationships.
James found that his grandfather was born nine months before the proposed parents' marriage. Targeted testing of his grandfather's presumed father's family proved that he was not James' grandfather's father.
Gene's father was unknown. He found that his mother divorced her husband very near Gene's date of conception. The divorce proceedings named his biological father.
Maria found that the birth indexes for her state included two female children born on the same day in the same place. One entry was for her amended birth certificate and the other entry was for her original birth certificate which revealed the maiden surname of her biological mother.
Compiled Family Trees
When an autosomal DNA test subject matches a group of genetic cousins who, in turn, are documented relatives to each other, it is likely the test subject is descended or related to the common ancestors of those individuals as well. Family trees for genetic cousins can be analyzed for shared ancestors, surnames, and locations which act as clues to the source of shared DNA with a group of matches. When matches have small family trees, the information they do provide can sometimes be used to quickly extend match's genealogies and search for connections between more distant generations. Once these connections and clues are identified, additional documents can be obtained to prove each generational linkage. Compiled family trees are also useful for identifying targeted testing candidates who might be interested in solving a family mystery.
Donald discovered unexpectedly that his mother was adopted. A large number of close genetic cousins had attached family trees and all of them descended from a common set of great-grandparents. Their trees helped quickly identify Donald's maternal grandmother.
Katy found a compiled tree from another MyHeritage user which included her great-great-grandmother. She invited the owner of the tree to perform DNA testing and together they used their test results to solve the unknown parentage of their common ancestor.
These are just a few sources to start with. Ready for more sources? Jump to Part 2 of this series.
************************
Are you struggling to make sense of an unexpected result in your DNA test? Do any of the scenarios above sound similar to your own situation? Are you seeking unknown ancestors in your family tree through genetic evidence? Legacy Tree Genealogists has experienced researchers who would love to help you consider both the genetic and documentary evidence for your case. To request a free consultation, visit https://legacytree.com/rootsfinder.