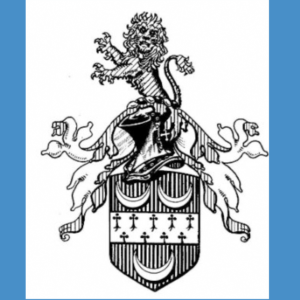 Brian Sheffey, blog author from the website Genealogy Adventures has shared this blog with us as part of our "How I Solved It" Series.
This blog, Brian explains how DNA has helped find relatives but pinning down the tree and identifying the correct individuals in the records has been difficult. He finally finds some of the information needed after diving into Quaker records.
---
My maternal Quaker Holloway family has begun to rival my maternal Quaker Harlan/Harling family, my paternal and maternal Quaker White family, and my paternal and maternal Ulster Scots and Scottish Stuart/Stewart family in terms of size and importance. These four families are enormous. Together, they connect me to a mind-blowing number of Americans from all walks of life. The sheer number of DNA cousins I have through these four families makes my head spin at times.
The Moses Williams Project (https://genealogyadventures.wordpress.com/2017/05/16/the-moses-williams-family-tree-project-update-1) has brought my Holloway line back into sharp relief. I think I have identified a Holloway granddaughter of Moses Williams, Sr in Edgefield County, South Carolina. The sticking point is this woman's mulatto father, Harry Holloway, born around 1797 in Edgefield. I know there is a blood connection between this Harry and my mulatto 4x great grandfather, Edward "Ned" Holloway. They are either brothers or first cousins. Additional DNA triangulation work needs to be done to nail down the relationship between these two men.
Harry is of particular interest for another reason. His descendants are matching descendants of Moses Williams through the Williams line. Initial DNA segmentation work is showing cMs in the 3.2 to 3.5 region. Along with other DNA variables too complicated to outline here, the common ancestor is looking like Moses. Specifically speaking, that common ancestor is beginning to look like one of Moses's unknown 40 daughters, five of whom have already been identified. Finding a sixth daughter would be awesome. Not to mention that if Harry and Ned are indeed brothers, this would mean that Ned Holloway would also be a descendant of Moses through this same daughter. You can see why sorting through the DNA triangulation process to understand this match is so important.
However, in order to solve the mystery of identifying another unknown daughter of Moses, we must begin to solve the question of Harry Holloway's paternity. Which means returning back to my Quaker Holloway research. DNA triangulation has already identified the white Holloway man who fathered Ned Holloway. While Ned's father, William Holloway (1765–1838) wasn't a Quaker himself, he is a descendant of the Quaker Holloway family. So it's once more into the breach where Holloway genealogy research is concerned.

The image above is from a book myself and the Genealogy Adventures research team have found to be invaluable. So far, we've worked our way through two-thirds of the lineages outlined in the book. As it so happens, I accidentally opened the book to a section the team had already worked through. It's a section that has a family group filled with brick walls. These brick walls all had to do with the children of William Holloway and his two wives: Martha Branson and Phebe Crispin.
To begin, I always find it impressive, no, awe-inspiring, that antiquarian researchers could compile lineage research with none of the modern research tools we take for granted today. Olin Holloway, for instance, relied on sending countless letters to Holloway family members. This formed the backbone of his research. Added to which, he visited various repositories to search through records, compiled data from numerous Holloway family bibles from the various branches of the family, and interviewed kin when and where he could. While there are wee errors here and there in the book, or differences in name spellings, the work he compiled is very accurate. Digitized records have proven it. So my hat is off to this cousin for this important work on the Holloway family.
However, like the main Harlan family book, The Genealogy of the Harlan Family, by Alpheus Harlan, there are some 18th and early 19th Century family lines who ceased to be Quakers…and seemingly disappeared from the face of the earth. For those of you who are not familiar with Quaker records, the Quakers kept meticulous and thorough records. These records largely have to do with Quaker Monthly Meetings. Think of these meetings as community administrative records.
Such records include details about:
Births, deaths, and marriages within the community;
Genealogical information: names of parents, siblings, children, and spouses;
Information about where a member of the community was living, and when they lived there;
Removals to other Quaker communities: A member, and his or her family, required a certificate from the leaders of their old community when they were planning to remove themselves to a new community. Think of this as a kind of letter of introduction. These certificates are invaluable. They provide dates, names, and locations; and
Removals from the Quaker faith. This gives the date an ancestor or kinsman or woman was removed from their Quaker community. Broadly speaking, this could be from bad behaviour, lapse in attending the monthly meetings, marrying outside the faith without permission, or being married by a non-Quaker minister.
These records are a goldmine of family history and genealogical information.

The first time the research team came across William Holloway, Martha Branson, and Phebe Crispin, we added the information above into the family tree and moved on. At the time, we felt that if Olin Holloway couldn't pick up their trail, the chances were high that we wouldn't be able to either. When I accidentally opened up the book to this page, it was kind of providential. This time around, I wanted to see what I could find.
This seemed like a providential moment for a few reasons. One reason I am going to share is pretty straightforward. Having worked our way through two-thirds of this book, the research team and I knew where other family groups at a similar generational level had initially moved to: Ohio. Columbiana County and Mahoning County, Ohio to be precise. So it made sense to look in these two counties to pick up William's trail.
And I found him.
However, I found him in a completely different part of Ohio from his Holloway cousins. I found him and his family in Clark and Guernsey Counties, Ohio. His journey goes something like this:
1820
1830
1840
Finding Additional Records
While the census returns were an exciting discovery, they by no means proved that the William Holloway living in Clark County, Ohio was one in the same as the William Holloway who married Martha Branson and Phebe Crispin; the man who was outlined in Olin's lineage book. However, I knew where to look to seal the deal now that I was researching in Clark County, Ohio. This lead to the first of a series of marriage and death records that provided additional proof: marriage and death records.
This marriage certificate proved that William had moved to Ohio, the place where he and Phebe had married. Source: Ancestry.com. Ohio, County Marriages, 1774-1993 [database on-line]. Lehi, UT, USA: Ancestry.com Operations, Inc., 2016.
Locating his Will and probate records was another key find:
This 1839 Will raised as many questions as it answered. Isn't that always the way when it comes to genealogy?
The children cited in this Will were by his second wife, Phebe Crispin. I was able to pick up the trail for most of the children he had with Phebe. I have been able to trace these children's descendants to the present day.
None of his children by his first wife, Martha, were mentioned. Not only that, neither I nor the research team, can find any definitive trace of the children William had with Martha. Where were they? It was back to the Quaker records for William:
Not that we had any doubts, this record confirmed the names of William's parents, his date of birth, and his place of birth.
Transcription of the removal record:
Springfield Monthly Meeting –
From the Monthly Meeting of Friends at Upper Springfield in New Jersey held the 9th of the Seventh Month 1788 to the Monthly Meeting of Friends of Crooked Run, Virginia. dear Friends, application being made to us for a Certificate on behalf of Elizabeth Holloway, wife of George Holloway, and their children who have removed to live within the (undecipherable) of your Meeting there may certify that on inquiry it appears she was a good degree of a sober life, conversation and sometimes attended our religious meetings. The children (to whit) William, Mary, Sarah, George & Thomas being in their minority, have a right of membership with us; as such we recommend them to your christian care and oversight & subscribe ourselves, your friends, brethren, and sisters (undecipherable) in on behalf of said Meeting. Signed
So what does this tell us? As of 1788, a young William left Monmouth County, New Jersey for Crooked Run Meeting House in Virginia with his mother and siblings. Crooked Run was a vital clue. Numerous Holloway cousins of William had left Pennsylvania and New Jersey for the same place.
Thanks to Olin's lineage book, I knew the 3 places associated with the Crooked Run Meeting House where William's cousins were living. It didn't take long to pick up his trail in Lynchburg, Virginia.
So, William and Phebe (Martha had died by 1808) were still very much Quakers in 1812. This record confirms it, as well as where they moved to from Virginia.
A few things still remain unclear. We have yet to find a marriage document for William and his first wife, Martha. Nor have we discovered a death record for her. Both are unusual for Quaker records. However, we know that both events occurred in Virginia. And we roughly know where in Virginia. So we have some good parameters to work with to locate these records.
The children William had with Martha are playing a good game of hide and seek. These kids are stubbornly remaining hidden. However, we have three solid places to seek them out in Virginia: Lynchburg, Warren, and Frederick, Virginia. The problem is there are many Holloways with the same names born around the same time as these children living in the same three places. It is a slow, methodical, and meticulous task of ruling out those we know aren't matches to the children we are seeking in order to focus on the candidates we believe will ultimately be these missing children. Did they remain in Virginia? Or did they move to Ohio as their father, half-siblings, aunts and uncles, and cousins did? And did they remain Quakers? And why was there no mention of these children, or their children, in William's Will? This strikes me as unusual. Was there a falling out within this family?
There is a last question regarding William and Phebe. It appears that they ceased to be Quakers. We have yet to find any Quaker Meeting records for them, or their children, in Fairfield County, Ohio, which is where they moved to in 1812. Thus far, it doesn't appear that their children remained Quakers. William and Phebe's children have every kind of record you would expect to document their existence – every kind of record save Quaker records. What happened? That too remains a mystery.
For now, we're happy to have broken through some brick walls for this family group…and add to Olin Holloway's amazing research.
If you have a story idea or a blog that you'd like to share as part of this series, please let us know about it in the comments.