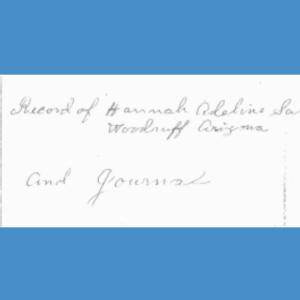 Lori Lyn Price from Bridging the Past shares an inspirational experience and reminds us to always read the footnotes–even when you're not expecting to find pertinent genealogical information.
______________________

I am very interested in domestic medicine (medicine practiced in the home) and recently began branching out from colonial medicine to 19th century "Mormon Medicine" as all of my 19th-century ancestors converted to Mormonism between 1830 and 1880. Understanding the medical techniques practiced among the Mormons would add social context to my research.
I planned a trip to the Church History Library in Salt Lake City in June 2017. I reached out to a librarian prior to coming and she sent me a list of articles to read before we met. The articles focused on faith healing, an important aspect of Mormon medicine.
As a good researcher should, I skimmed the footnotes as I was reading the articles on the plan en route to Salt Lake. Lo and behold, my 2x great grandmother Hannah Adeline Hatch (Addie) was mentioned. I know of the incredible woman that Addie was and that she suffered many health problems throughout her life, but I had no idea that she was a healer or that she left behind a diary which is publicly available.
You can bet I downloaded that diary the first chance I got. I am in the process of transcribing it.
Don't forget to read the footnotes. You never know what you might find.
If you have a story idea or a blog that you'd like to share as part of this series, please let us know about it in the comments.