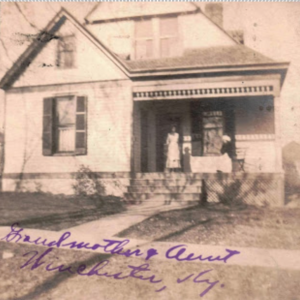 Jenna Mills, blog author of Desperately Seeking Surnames, has shared this blog as part of our ongoing "How I Solved It Series".
Here, with Google Maps and some sleuthing, Jenna discovers the identity of the mysterious "Aunt" labeled on an old photo.
---
This is not a new concept. This isn't the first, second or tenth time you have read a blog post about the concept of researching the family, the entire family unit. We are directed to look into the friends, the associates and the neighbors for clues and information. This method was coined the FAN Principle by Elizabeth Shown Mills. You will have also heard this approach referred to as collateral or cluster research.
I know this too. Yet, it seems I put this practice into place only when all else fails. It's time to change my way of thinking and approach to collateral research for good this time.
From personal collection.
My Allen Ancestors
I've posted many times about my Allan / Allen ancestors. They are my Mother's maternal line. I've documented the Allen family living for many years in and around Winchester, Clark County, Kentucky.
In 2011 I posted the photo above as a Wordless Wednesday post and listed the potential people the photo references. This photo was from my Grandpa Allen's photo album. The writing on the photo says "Grandmother & Aunt." But which side of the family? The Allen side or Grandpas maternal Scott side?
The possibilities listed were correct and now I know who they are.
One evening while randomly looking at my family tree on Ancestry I, for some unknown reason, decided to look more closely at the other children of my 2nd Great Grandmother Martha Ecton. Right? Look at the family, the whole family and that includes the children. Because children grow up and they create records too.
Alice Scott was listed as a possibility for the Aunt in the photo. I began with searching the census for Alice Scott using Ancestry. I did know now if or when she may have married. Now worries in this situation, Alice made finding her easy by staying single her entire life.
1940 U.S. Federal Census, Year: 1940; Census Place:
Winchester, Clark, Kentucky; Roll: T627_1295; Page: 14B; Enumeration District:
25-14, digital image, Ancestry.com, accessed 13 August, 2016.

Google,
May 2012, 220 South Burns Avenue, Winchester, Kentucky, Retrieved August 13,
2016, www.maps.google.com.
I began backtracking in the census with Alice and found Alice, Lutie (Loita is Lutie her death certificate confirmed) and Martha Scott living together at 220 Burns Avenue in the 1930, 1920 and 1910 census. I found more family members together in the 1900 census (including father Thomas) in the same district but the census didn't list the street names unfortunately.
I can now identify one person in the photo. The Grandmother referenced is Martha Ecton Scott. The Aunt is either Alice or Lutie Scott.
This information has been out there waiting to be found. Until I decided to see what was going on with Alice though, this information remained hidden from me.
Lesson learned, again, family history research is about the family not one individual. Researching the family as a whole can not only provided needed information, it provides a more interesting picture of how, who and where our ancestor(s) lived.
More Information on the FAN Principle
If you would like to learn more about the FAN Principle or Cluster Research you may want to review these resources.
If you have a story idea or a blog that you'd like to share as part of this series, please let us know about it in the comments.