Schalene Dagutis, blog author of Tangled Roots and Trees, has shared this blog as part of our ongoing "How I Solved It Series".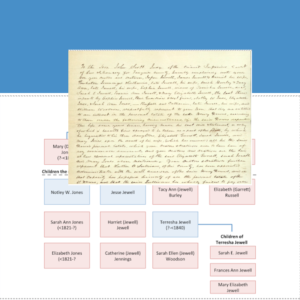 This great post shows how Schalene sifted through pages and pages of court records to find a "new" 4th great grandfather hidden in the details.
Henry Downs, a prosperous farmer in Fauquier County, Virginia, wrote his last will and testament on 8 February 1821.
Snippet of Henry Downs' last will and testament from Ancestry.com's Virginia
Wills and Probate Records, 1652-1983
We know that Henry Downs died before 24 January 1825 as that was the day the will was proved. The will was annexed to Luther O. Sullivan to be administered on 23 March 1835 after the two executors named by the deceased refused to "take on the burthen of the executing."
The part of the will that is most relevant to this story is:
"Secondly I will and bequeath my loving wife Mary Downs all of my estate both real and personal of every sort during her natural life or widowhood and at her death or marriage that all my personal estate be sold and equally divided among my three daughters namely Elizabeth Garrett, Sarah Jewell, and Mary Jones share and share alike to them and their heirs and assigns forever."
A Virginia Chancery Case, 1841-009, which began in Fauquier County on 16 April 1840 with the filing of a bill of complaint by the counsel for the heirs of the daughters of Henry Downs, all of whom were deceased.
Snippet of Bill of Complaint filed in Fauquier County Chancery Court for
Case 1841-009; courtesy Library of Virginia
The portion of the complaint that describes the family relationships is as follows:
"To the Honorable John Scott Judge of the circuit
Superior Court of Law Chancery of Fauquier County, humbly complaining unto your
Hon. your orator and oratrixes, Jesse Jewell, James Jewell and Harriet his
wife, Powhatan Jennings and Catherine, late Jewell, his wife, Uriah Burley and
Tacy Ann, late Jewell, his wife, Sophia Jewell, widow of Terresha Jewell,
and Sarah E. Jewell, Francis Ann Jewell, Mary Elizabeth Jewell, the last three
infants by Sophia Jewell, their guardian's next friend, Notley W. Jones,
Elizabeth Jones, and Sarah Ann Jones. _____ Russell and Catherine, late Garrett, his
wife, and William Woodson, respectfully represent to your Hon.: That they are
entitled to an interest in the personal estate of the late Henry Downs,
accruing to them under the following circumstances, viz.: The said Downs
departed this life some years since, having made his last will and testament, a
copy of which is herewith filed and prayed to be taken as a part of the Bible,
by which he bequeathed to his three daughters, Elizabeth Garrett, Sarah Jewell,
and Mary Jones upon the death of his wife, (which has occurred)all his
the said Down's personal estate, which your orators and oratrixes aver to have
been of very considerable amount – and your orators and oratrixes are the heirs
at law and personal representatives of the said Elizabeth Garrett, Sarah
Jewell, and Mary Jones above mentioned – "
Therefore, we can construct this family tree for the daughters of Henry and Mary Downs:
Children of the daughters of Henry Downs; created using Microsoft PowerPoint
(NOTE: Elizabeth (Garrett) Russell's given name should be Catherine)
Because the names of the children of Sarah (Downs) Jewell matched the names listed in the extract of Thomas Jewell's will found The Wills of Amherst County, 1761-1865, I knew that Sarah (Downs) Jewell was the wife of Thomas Jewell, and my three times great grandmother. This is the relevant abstract:
THOS. JEWELL — Book 8, Page 354 — Administrator's Bond — September 16, 1833. JESSE MUNDY. Bondsman: CHAS. MUNDY. Book 8, Page 364 — Inventory — Farmer – $3,706.76. September 30, 1833. WM. KENT; LAWSON TURNER; RUBEN CARVER. Book 9, Page 22 — Division to legatees: JESSE JEWELL, WM. WOODSON, JAS. JEWELL, CATH. JEWELL, URIAH BURLEY, TERISHA JEWELL. October 30, 1833. JNO. DILLARD, WM. KENT, D. STAPLES.
I had assumed James Jewell (listed as Jas. Jewell above) was a son of Thomas Jewell and Sarah Downs, but this was not the case. Instead, he is the husband of Harriet Jewell, daughter of Thomas Jewell and Sarah Downs — an understandable error if I do say so myself — until you read the Chancery Case 1841-009, especially page 66:

Fauquier County Chancery Case 1841-009; courtesy of the Library of Virginia
"Know all men by these presents that we James Jewell and Harriet his wife formerly Harriet Jewell, Powhatan Jennings and Katherine his wife formerly Katherine Jewell, Uriah Burley and Tacey Ann his wife formerly Tacey Ann Jewell, for a full and valuable consideration to us in hand paid, by Jesse Munday of Amherst County…"
The case is comprised of 75 pages of file folders and documents. I have transcribed the packet and everything may be found on my family tree on Ancestry associated to the relevant people.