Schalene Dagutis, guest blogger from Tangled Roots and Trees, has shared this blog as part of our ongoing "How I Solved It Series."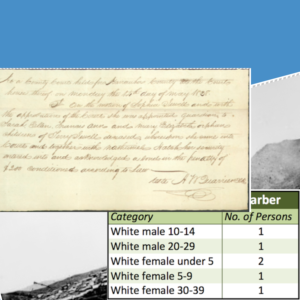 Here, Schalene shows us how she tracked the life of the widow Sophia using census and local history records to reconstruct a timeline of her life and unlock clues.
A case in Virginia Circuit Superior Court and Chancery revealed Sophia Jewell was the widow of Terresha Jewell, known as Terry, often transcribed and indexed as Jerry, with three minor daughters — Sarah Ellen, Frances Ann, and Mary Elizabeth. We know Terry Jewell died sometime before 14 May 1838 as that was the date Sophia appeared before the Kanawha County court requesting guardianship of her children who were described as the "orphan children of Terry Jewell, deceased…" Her motion was granted the same day.
Virginia Chancery case 1841-009, page 74; courtesy of the Library of Virginia
Those three little girls were my first cousins three times removed, nieces of my great great grandmother, Catherine B. (Jewell) Jennings.
Terry died when Kanawha County was still part of Virginia. Virginia did not require counties to record deaths until 1853 and West Virginia did not require statewide registration until 1917. Currently, this court case is the best evidence we have of his death until some other substitute record may be found, such as an obituary or funeral record. However, I did learn that Terry and Sophia were married in 31 March 1832 in Kanawha County by James C. Taylor. Sophia's name was listed as Sophia Ann Mahone, so I surmised that was her maiden name and her three daughters were born between 1832 and 1838.
Sophia married again to Hiram Harbour on 16 June 1839, according to the return sent to the Kanawha County clerk by Francis A. Timmous. Sophia was listed as Mrs. Sophia Juel. In 1840 Hiram was enumerated in the federal census as the head of a household comprised of seven people in Kanawha County:
1840 Household of Hiram Harber (Harbour); created with Microsoft Excel
We may assume Hiram was the male between 20-29 years of age, making the range of his birth between 1811 and 1820. Sophia was the female between 30-39 years of age. The three young girls are surely Sarah Ellen, Frances Ann and Mary Elizabeth Jewell. The mystery is the male between 10-14 years of age. Who was he?
By 1850 Hiram and his family had moved to Howard County, Missouri, and for the first time all the names of members of his household were enumerated. The mystery boy from the 1840 census was likely John Mahone, who was 23 years of age in 1850. My current theory is he was Sophia's son born out of wedlock and before her marriage to Terry Jewell. Terry's three daughters are also listed in the 1850 census as being 16, 14, and 12 years of age, respectively.
Sarah Ellen (16) and Frances Ann (14) disappeared from the records thereafter. I have not found a trace of Sarah Ellen, but believe Frances Ann died on 1 September 1851 and was interred in the Clarks Chapel Cemetery in New Franklin, Missouri.
Sophia's son John Mahone married Catherine Foster Rhoads in September 1852 in Sacramento County, California, which was my first clue the family had settled there after their sojourn in Missouri.
In 1855 Hiram was charged with assault with the intent to kill due to an incident where he shot Andrew Bates over some horses. Over the next few years he was in and out of court frequently on various matters.
By 10 March 1857 Hiram Harbour lived in Sacramento County and was placing advertisements, likely required by law, in the Sacramento Daily Union that his wife had "abandoned his bed and board" in December 1855 and he wasn't going to pay any debt she may have incurred.
An article in the same newspaper reported Hiram and Sophia were granted a divorce on 7 March 1859 in Sacramento County.
Mary Elizabeth Jewell married Benjamin H. Hereford on 13 January 1859 in Sacramento County. Benjamin was a city-county councilmen and the son of an attorney; his brother would become a U.S. Senator from West Virginia in the 1870s. They had two sons before Mary died on 27 August 1866 in Virginia City, Nevada.
In 1860 Sophia lived with Mary Elizabeth and her new husband, Benjamin, on their extensive ranch in Lee Township. A notice in the Sacremento Daily Union informed readers that Sophia died on 2 February 1862 in Virginia City, Nevada, where Mary and Benjamin had moved shortly after their second son was born in 1861.
View of Virginia City from a nearby hillside ca. 1867; courtesy Wikipedia
Virginia City was booming when the Hereford family arrived soon after the discovery of the Comstock Lode in 1859. It was once heralded as the most important city between Denver and San Francisco. Samuel Clemens began reporting for the city's newspaper, Territorial Enterprise, under the name Mark Twain in 1862.
NOTE: The Find A Grave memorial for Mary Elizabeth (Jewell) Hereford lists her birth year as 1839. A California mortuary and cemetery card listed her death date as 27 August 1866 and stated her age was 27 years, 3 months and 14 days, making her date of birth 14 May 1839. This cannot be true because she was listed on the request for guardianship, which was filed in Kanawha County court on 14 May 1838. I believe she was actually born in 1838.
If you have a story idea or a blog that you'd like to share as part of this series, please let us know about it in the comments.