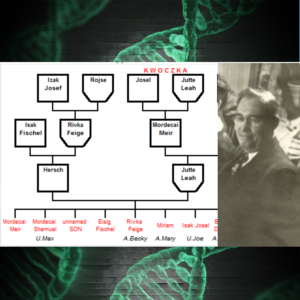 Israel Pickholz, guest blogger from All My Foreparents, walks us through a promising DNA analysis at FTDNA in search of his family as part of our "How I Solved It" series.
---
Uncle Max
My grandfather Mendel (Morris) Pickholtz was the youngest of seven children. I knew two of his brothers, Uncle Joe and Uncle Dave, well. The three brothers were in business together and most of their children and grandchildren were the same age cohort as my grandfather's. I didn't know the three sisters, though I remember meeting Aunt Bessie once, shortly before she died. Aunt Becky died before I was born and Aunt Mary lived in Florida. The sisters' children were older, so they were not as close to us as the brothers' children.

Then there was Uncle Max, Mordecai Shemuel. He was the eldest and the only one of the brothers whose English betrayed his European upbringing. He and Aunt Sadie had no children and they lived in Canonsburg (Washington County), where he was a jeweler, rather than in Pittsburgh where everyone else was. Eventually they moved to Florida but maintained the house in Canonsburg and spent some of the summer there. We would make a pilgramage every summer and play in the yard while my parents sat with them in the kitchen talking about who knows what. We never saw any of the house beyond the kitchen and the bathroom and I never realized that there was much more to the house than that. Eventually a share of Uncle Max' will enabled my parents and sisters to move to Israel.
Uncle Max outlived all his brothers and two of his sisters. After his wife died, he spent some time with family in Pittsburgh but I was out of the house by then, so I didn't really know him. He almost certainly knew the answers to many of the genealogy questions that I have struggled with for years. But no one asked him and he wasn't one to talk.
Someone who was talking was my grandmother. One afternoon when I was in maybe eighth or ninth grade (it was after my grandfather died but before she remarried), I was at Nana's house on Northumberland Street (she lived on my way home from school in those years, so I occasionally stopped in) and for no good reason, she told me that her mother-in-law had borne ten children, not just the seven who came to Pittsburgh. I didn't ask questions much as a child and though I wondered about the other three, but I never asked.

Doing genealogy
I had begun to show an interest in the family history so before moving to Israel, Aunt Betty took me to the two family cemeteries in Pittsburgh and I learned the names of the fathers of my father's four grandparents – Isak Yeroham Fischel Pickholtz, Mordecai Meir Kwoczka, Yitzhak Yehudah Rosenzweig and Shemaya Bauer, assuming the spellings of the surnames as I knew them. At the time I knew of no one in the family who bore the names of the first two, but noted the similarity of Uncle Max' Mordecai Shemuel to his grandfather Mordecai Meir.
In time, largely through JRI-Poland, I learned more of the family names, including my grandfather's two brothers who died before their second birthdays. And one nameless brother who died at birth. That accounted for the ten that Nana had told me about forty years earlier.
So all four of the grandparents are named for in the subsequent generation, though two of those children died young. Uncle Joe was named for his great-grandfather and my grandfather for his uncle Mendel Kwoczka. I have no idea where Aunt Mary and Uncle Dave's names came from, perhaps the parents of Isak Fischel or some non-ancestral relatives.
But Uncle Max is a bit of a puzzle. I figured that since the name Mordecai Meir was important, they wanted to use it again after the older brother died, but made a change to protect against the "evil eye." That was not unheard of. So why pick Shemuel as a second name?
In fact, they didn't. His birth record has it reversed. He was born Samuel Mordche so this must have been more than a name substituted to fool the "evil eye."
It is not a name I see anywhere else in the close-ish family. There is a death in 1835 for three year old Samuel Kwoczke, parents not listed, but that seems like a stretch. I filed that question – together with Miriam and David – as unknown, perhaps unknowable.
FTDNA Match Alerts
I have written about my new strategy regarding the FTDNA autosomal match alerts – here and here. A few weeks ago, I had some interesting matches with a man named Alan Kronisch who has kindly alloewed me to quote from our correspondence.
Two weeks ago I wrote:
> What I am looking for is segments of >10 cM with multiple matches.
>
> On chromosome 6, you have a segment of ~23 cM four of my parents'
> children, my father's sister and two second cousins (brother and
> sister) on my father's father's side.Plus ~17 cM with a half second cousin of
> my father. This is a Pikholz segment, as all of those I list are descendants of
> my g-g-gm Rivka Feige Pikholz, the daughter of (Izak) Josef Pikholz, b.
> ~1784 in Skalat, east Galicia. (We know nothing of his wife.)
>
> Do you have cousins who might test in order to pinpoint this from your side?
>
> On chromosome 8, you have > 11 cM with my aunt and uncle, one second
> cousin and one third cousin. The family here is Kwoczka, my g-gm. (Her
> mother is the Pollak from Jezierna). The Kwoczkas lived in Zalosce, not far
> from Jezierna.
>
> This is a weak segment probably from before 1800. I say that both because it
> is only 11 cM and because I have only four people on this segment. (I have
> about twenty family members who are Kwoczka descendants.)
The Kwoczka/Pollak segment is here:
Weak but real. About as best as can be expected from that distance.
And here is the Pikholz segment which also includes a double fourth cousin who is descended from Rivka Feige's brother. It is a better segment than the one above, but because the Pikholz family is so intertwined with itself, it is hard to say anything meaningful.
Alan's reply included this:
My father's father was Moshe (Moe/Morris) Mordecai Kronisch, born 1896,
Zborow, Galicia. He was the only child of Shmuel Kronisch and Esther
Rosie Pollak. His grave confirms "ben Shmuel" but I have found no
record of Shmuel in the archives other than on Moe's birth record. I am
investigating the possibility that Shmuel was also known as Shulim
Kronisch. There are records for 2 Shulim Kronischs along with possible
clues. One of them died in 1897 which is consistent with family lore.
The other's mother was a Goldstein which is an ancestral surname of
another autosomal match (2nd-3rd cousin) of mine.

Esther (b. 1877 Zborow, d. 1960 Los Angeles) was the daughter of
Mordecai Schmeil Pollak (b Zborow) and Gittel Gruber (b~1850 Plaza
Weilka). (Emphasis mine – IP)

Mordecai Schmeil Pollak from Zborow, nine miles from Jezierna (aka Ozerna). His daughter Esther is a contemporary of Uncle Max, whose grandmother is a Pollak. This looks excellent. Both Alan's second-great-grandfather and Uncle Max may have been named for a common ancestor. And Uncle Max' name may have no direct connection to his grandfather Mordecai Meir Kwoczka.
JRI-Poland does not have specific Jezierna records. There is a woman names Sara Beile Pollak (parents Juda Ber and Chane) from Jezierna who had children in Zalosce. Her husband was Moses Wolf Ambos. And a Hena in Lwow who looks like Sara Beile's sister.
This is my first movement of any sort on the Pollak family.
JRI-Poland has 598 Pollak (exact spelling) records in Tarnopol Province, over forty of them in Zalosce. Plus 39 within 10 miles of Jezierna on the All-Galicia Database. Mine from Jezierna and Alan's from Zborow could me connected to any (or all) of them. I am going to let Alan run with this for now.
Perhaps Alan has some cousins whose tests could help clarify some of this.
Epilogue
Uncle Max, who I knew at the time to be Mordecai Shemuel, was my grandfather's eldest brother and had no children. Nana's eldest (half) brother, Uncle Fred was Shemuel. He too lived a long life but had no children. I gave my third son the middle names Shemuel Mordecai to cover them both, not knowing that this was the correct order of Uncle Max' birth name. Less than a year later, one of my sisters named her third son Shemuel Mordecai, for the same reason.
It may be a better reason than we know.
Housekeeping notes
This week's project is going over the Match Alerts for October and November.
If you have a story idea or a blog that you'd like to share as part of this series, please let us know about it in the comments.