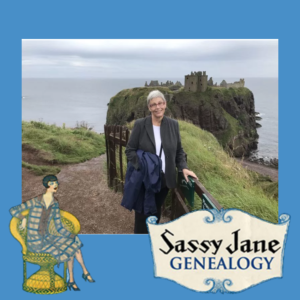 Nancy Loe, blog author from the website Sassy Jane Genealogy, has shared this blog as part of our ongoing "How I Solved It Series". This is a quick story about finding details of her ancestors who lived within the parish of Dunnottar near Dunnottar Castle.
---
This summer I've been finding Scottish Ancestors at Dunnottar. On my second trip of five planned to visit the ancestral villages of my immigrant great-grandparents, I visited Dunnottar Castle in Scotland. Once a 13th-century Scottish hilltop fortress, by the 15th century Dunnottar was a Highland castle, and today lies in ruins.
The Ancestors
My great-great-great-great-great grandparents, Robert Moncurr and Anna Jerves, were born and married in the Dunnottar parish. So, of course, I made a beeline to Dunnottar Castle. As a genealogist, however, I have no illusions that my family were nobility or even landholders. So here's an account of what I learned by visiting Dunnottar.
The Place
A Vision of Britain Through Time notes, "Dunnottar (anc. Dunfoither; Gael. dun-oitir, 'fort of the low promontory '), a coast parish of Kincardineshire, containing the fishing village of Crawton and all the old town of Stonehaven. It is bounded NW and N by Fetteresso, E by the German Ocean, S by Kinneff, and SW by Arbuthnott and Glenbervie." The castle itself began as a medieval stronghold jutting off the coast of Scotland, 160 feet (it felt like 320 when climbing up there) above the North Sea, and about two miles south of Stonehaven. The buildings that survive are largely of the 15th and 16th centuries, which is fine with me because that's when I found my ancestors in the area.
Dunnottar Castle is a scheduled monument. Twelve structures are designated as listed buildings, including the chapel, an "oblong roofless ruin, dating late 16th century and incorporating medieval fragments," would have been standing when Robert Moncur and Anna Jerves were married in 1761. Interesting.
The History
"Dunnottar has played a prominent role in the history of Scotland through to the 18th-century Jacobite risings because of its strategic location and defensive strength. Dunnottar is best known as the place where the Honours of Scotland, the Scottish crown jewels, were hidden from Oliver Cromwell's invading army in the 17th century. The property of the Keiths from the 14th century, and the seat of the Earl Marischal, Dunnottar declined after the last Earl forfeited his titles by taking part in the Jacobite rebellion of 1715."
That's all very impressive and it was wonderful to visit, but it was time to parse the difference between Dunnottar Castle and Dunnottar Parish.
The Records
Robert Moncurr was baptized in the parish of Dunnottar on 14 Jul 1737. (And a pox on the Scottish records of this era that list the father and the male witnesses but not the woman who actually gave birth to the child. Grrr!) Charles, his father, lived in Easterside, where the birth presumably took place.
ScotlandsPlaces notes that Easterside was "a small farm steading on the Estate of Dunnottar the property of Sir Patrick Keith Murray Baronet." (I'm practically tugging my forelock on behalf of my ancestors reading that record.)
I next found Robert in his 1761 marriage record to my great-great-great-great-great grandmother, Anna Jerves. All I am able to discover about Anna is that she was either 1. in a very early witness protection program, or 2. landed in Dunnottar parish in a pre-pre-prequel of an intergalactic visit, or 3. I haven't figured out the best alternative spellings of her surname to search on yet. IOW, I know nothing about her, but her marriage and the birth of her daughter Margaret.
Close reading of this record notes that they both living in Kinneff, "a roadside hamlet" where they posted their banns. The description of Dunnottar parish said it was bounded on the south by Kinneff. Robert was a whitefisher by occupation, which also fits.

The Results
So the most logical place my 5-g-grandparents were married was the Kinneff Old Kirk, a lovely and historic church first consecrated 5 August 1242. From 1651-1660, the Crown Jewels of Scotland removed from Dunnottar Castle and were hidden in Kinneff Church, kept safe from Cromwell and his marauders. After the restoration of Charles II, the Scottish Crown Jewels were moved to Edinburgh Castle.
In 1737 the Kirk of Kinneff was described as "in such a state as that it is dangerous for people to assemble therein for divine worship" so the Presbytery of Fordoun "concluded to build a new Kirk upon ye same foundation."
I'd like to think that my 5-greats hurled some cabers, or won a haggis-eating competition, or won the tartan-weaving competition visiting their neighbors at Dunnottar Castle. The records peter out beyond Charles Moncurr, my 6-g grandfather, but perhaps they were in the area long enough to have actually worked and lived at Dunnottar Castle.
In the meantime, I'm just as happy knowing, to the best of my research ability, where Robert and Anna really lived and raised their family. Going to Dunnottar gave me a feeling for the land and what was not just possible, but logical, in the records I've found.
If you're looking for help with your Scottish research, my genealogy guide "Finding Scottish Ancestors Online" is newly updated.
So that was my first venture "through the stones" on my first trip to Scotland. Scotland was the country I've most wanted to visit of the five that my great-grandparents came from. I would most like to talk to 5g-grandmother Anna Jerves with questions about raising her children in such a cold, damp, beautiful place. Were she and she and her husband Jacobites and how they heard about the Battle of Culloden 100 miles away?
Thanks to Elizabeth O'Neal for this month's Genealogy Blog Party "Through the Stones."
Stay tuned for more posts from my research trip to the Highlands, full of Picts (or their stones), tartans, Clan Ross headquarters, sheep, dry-stone walls, rain, single-malt whiskey, haggis (yep, I ate it twice), and the nicest and most polite people we've ever encountered (outside of Norway, of course.)
If you have a story idea or a blog that you'd like to share as part of this series, please let us know about it in the comments.