DiAnn Iamarino Ohama, blog author from the website Family Tree Advice, has shared this blog as part of our ongoing "How I Solved It Series".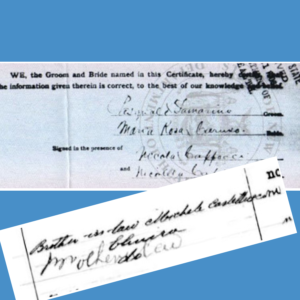 This blog explains how she found information by looking beyond known relatives and looking at their friends and neighbors for information on her family.
---
The witnesses to this marriage were a key to a puzzle.
Sometimes it really pays to research your ancestors' friends and neighbors.
Case in point: The witnesses to my great grandparent's wedding unlocked a mystery that had me stumped for years.
Three years ago I received my great grandparent's 1906 marriage certificate from the New York State Department of Health. On the back, the two witnesses' names appear to be Nicola Cappocci and Nicolella Cappocci.
I started to wonder who they were. I did a bit of searching for them, but I had no luck.
Then I happened to be looking at my 2nd great uncle, Giuseppe Caruso. He was the brother of the bride in that 1906 wedding. He was the first member of that Caruso family to come to America and pave the way for his siblings.
Brother-in-law Michele Castelluzzo, and ditto.
Giuseppe Caruso arrived in New York City on March 23, 1900. His ship manifest showed that he was with his brother-in-law, Nicola Capozza. The two men were traveling to Elmira, New York, to join their mutual brother-in-law, Michele Castelluzzo.
I didn't know how to work Nicola Capozza and Michele Castelluzzo into my family tree. I didn't have enough information to be sure of their exact relationship to my Caruso family. But now I had that marriage certificate. The light bulb was going off above my head.
Was Nicola Capozza the same man as the witness, Nicola Cappocci? How could I tie Giuseppe Caruso to Nicola Capozza/Cappocci?
Giuseppe's wife was named Marianna, but I didn't know her maiden name. I had found her only on census forms.
I formed a hypothesis that Marianna might be Marianna Capozza, brother of Nicola Capozza from the March 1900 ship manifest. That would make Nicola and Giuseppe brothers-in-law.
To test my hypothesis, I searched for a ship manifest with the name Marianna Capozza.
I found her on a ship, landing at the port of New York, on March 18, 1901, as Maria Anna Capozza. She was with her father Francesco, coming to join Francesco's son and Maria Anna's brother Nicola Capozza on Canal Street in Elmira, New York.
Planning to be with them, but crossed off the ship manifest, was Nicoletta Martino. She was the wife of Nicola Capozza on Canal Street in Elmira, New York.
Nicoletta Martino was the other witness to my great-grandparent's wedding. Now I knew that her husband, Nicola Capozza, was the brother-in-law of the 1906 bride's brother, Giuseppe Caruso.
Now I had solved one mystery. I knew exactly who Nicola and Nicoletta—the witnesses to my great-grandparent's wedding—were.
But what about Michele Castelluzzo? He was the man mentioned on the ship manifest as a brother-in-law to both Giuseppe Caruso and Nicola Capozza.
I took a closer look at my documents for Giuseppe Caruso.
In his 1905 New York State Census, I found three families living beside one another in Cameron, New York, near Elmira:
Giuseppe Caruso and his wife Marianna (Capozza)
Nicola Capozza and his wife Nicoletta (Martino)
Michele Castelluzzo and his wife Caterina
Caterina proved to be the connection. She was Caterina Capozza, the sister of Nicola and Maria Anna. That makes Michele Castelluzzo the brother-in-law of both Nicola Capozza and Giuseppe Caruso.
It's exactly what the 1900 ship manifest said.
I had that 1900 ship manifest for seven years before I could connect Nicola and Michele to my 2nd great uncle Giuseppe Caruso.
It was the witnesses to my great grandparent's wedding who held the key.
Which answers are hiding in plain sight on your ancestors' documents?
If you have a story idea or a blog that you'd like to share as part of this series, please let us know about it in the comments.