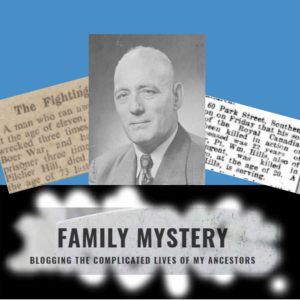 Suzi Brent, blog author of Family Tree Mystery, has shared this blog as part of our ongoing "How I Solved It Series".
Suzi tells the story of how the spouse of a third great aunt has a very common name. Up until recently, no information could be found because of that. Newspaper searching provided the key to finding out more about this ancestor and his life.
---
George Pillcher Hill, 1869-1943
Hairdresser of Bletchley and Southend and the husband of my third great aunt.
A common peril for genealogists is falling down a rabbit hole. Not just the literal rabbit holes at Sutton Road cemetery in Southend, where I nearly broke an ankle, but the distraction of a rather interesting individual who has some connection to your actual relations. One example of this is George Hill, the second husband of my third great aunt, Emily Downing. She married him in 1927, when they were both in their fifties. For a long time George was just a name on the tree with no dates – his name was too common for me to be able to pick him out on the censuses etc. It was a couple of newspaper articles on FindMyPast that piqued my interest and pointed me in the right direction. Or possibly the wrong direction.
First of all there was George Hill's obituary, published in the Chelmsford Chronicle on 26th March 1943. This filled in his age and most importantly his middle name, and I was then able to find him in London on the 1871 and 1881 censuses – presumably just prior to his "running away from home" in 1881. Then there was no sign, except for a Boer War record with very little information. I never found anything else about the shipwrecks! Then I found this:
This was from 7th July 1916. I looked up "Private George Hills of the Royal Canadian Highlanders" and found his entire service record was available on the Library and Archives Canada website. I also found his name on the Commonwealth War Graves Commission website, where he was listed as "the son of Mrs Sarah Hill of 28 Victoria Road, Bletchley". I was confused by this, because George Hill lived in Southend, not Bletchley, and why was his mother listed on the record and not his father? And… Canada? Why would George's sons be in Canada?
I read George's record first. In spidery, child-like handwriting, a will tucked into the records (nearly every page of which had been stamped "Killed in action"). "In the event of my death I leave all of my property and effects to my mother – and then her name and address – my property consists of $125 in the Royal Bank of Canada… and the balance of my pay. Signed Pte George Hill". George Hill was not twenty-two when he died, he was nineteen. His body was never found, and he is remembered on the Menin Gate.
And then there was the record of his brother, William. William had given his date for birth as August 11th, 1897. There was a note to say that later, his actual date of birth had been discovered to be August 17th, 1900. William was, in fact, just fifteen years old when he went to war. He had declared that his father was dead, and that he was the sole financial support for his widowed mother. But William had not been killed as the paper claimed. He survived the war and returned to Canada, where he lived to the age of 58. It seemed to me that William and George had gone to war to send money home to their mother, and that their father was clearly absent. As for the third son, John, I can find no sign that he even existed. Perhaps the paper had it wrong, perhaps George had been deliberately misinformed (by his angry wife, whom he'd abandoned), or perhaps there is more for me to find out.
Another jigsaw piece fell into place as I found George and William on a database of British Home Children who had served in the military. British Home Children were children who were being looked after the authorities, usually orphans or those whose parents were destitute, who had been sent to Canada for a better life. Had George Hill abandoned his wife and left her unable to look after her children? There was one more surprise in this database – George Pillcher Hill himself had also been a British Home Child, leaving for Canada in 1883 and returning sometime in the 1890s.
With this new information, I found George Hill and his wife Sarah on the 1901 census in Bletchley. I say "wife", but I can find no evidence that they ever married. I found Sarah again on the 1911 census, still in Bletchley, but this time without George and living with her mother. This is how I know that she her "maiden name" was Sarah Howes. The 1911 census also states that Sarah had twelve children, four of whom have died. These children appear inconsistently throughout the censuses – I'm still trying to piece together their movements but this is what I have so far:
Alive in 1911:
Doris (1895-1897, married Arthur Janes). Absent in 1901, present in 1911. Appears in Sarah's 1937 will.
George (1897-1916). Present in 1901, absent in 1911.
Lizzie (1896-1938, married John Eaton). Present in 1901 and 1911.
Louisa (1899-?) Present in 1901, living with a local family and sister Florence in 1911.
William (1900-1958). Present in 1901, absent in 1911.
Florence (1902-1924, married Thomas North). Living with a local family and sister Louisa in 1911.
Ernest (1908-?) Present in 1911, emigrated to USA.
Violet (1910-?) Present in 1911, appears in Sarah's 1937 will. Only Violet and Doris are mentioned.
Died before 1911:
Harry (1901-1902)
Isabel (1904-1904)
Elsie (1906-1909)
Unknown:
Child number 12. Can find no trace of a twelfth child at all. Could be a mistake, or a stillborn child who was never registered.
(Note: since writing this post I have revisited the census and moved Louisa into the "Alive" category. This means that the mysterious third soldier child, John, could not have existed, as he would have had to be one of the eight living children. Unless of course he was an illegitimate child of George and a mystery woman and not a Hill at all!)
The newspapers fill in the gaps as to what happened to George Pillcher Hill and how he turned up in Southend.
In 1909 he had been served with an ejection order was served to remove him from the premises in Stony Stratford where he ran his hairdresser's business. Shortly afterwards, it was noted that George and family had been referred to a workhouse in Newport Pagnell for relief, but that George had absconded to Northampton in search of employment. Did George ever return? I haven't been able to find him in the 1911 census. His next appearance, other than the confusing article about the sons killed in the war, was 1920 when he appeared in court in Bletchley for maintenance arrears owing to Sarah for the upkeep of her children dating back to 1912. The court noted that no money had been paid so far, and did not seem terribly optimistic that any would in future.
I suspect that George went "to Northampton" and simply never returned. Sarah was unable to cope financially. Her sons tried to help by going to war, and one lost his life in the process. Her younger children were taken into care, maybe even adopted. Perhaps the reason I am having trouble tracing them is because their names were changed?
Emily – my third great aunt who married George in 1927 – seems like quite a sensible, motherly kind of character from what I have read about her and heard from her descendents, so it is anyone's guess why she wanted to marry a man whose life was so full of drama and who had let his previous family down so badly. Technically, though, their marriage was not bigamous because he and Sarah were not really married!
I'll let Sarah have the last word here, because it seems she suffered enough. In her will, she says:
*******************************************************
You can read Suzi's original post at https://familymystery.org/2018/01/16/george-pillcher-hill-the-disappearing-husband/
If you have ideas or stories to share in our "How I Solved It" series, please let us know!