Suzi Brent, blog author of Family Tree Mystery, has shared this blog as part of our ongoing "How I Solved It Series".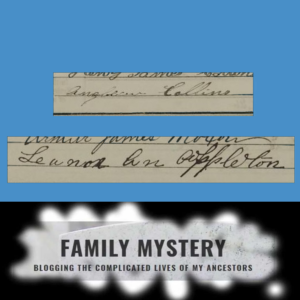 Here, Suzi shows us how she discovered a missing relative who ended up changing her name and becoming a bigamist.
Angelina Appleton, born 1848
Bigamist of Southend-on-Sea, Essex, and my 4th great aunt
Angelina Appleton was baptised on 30th April 1848, the fourth child of William Appleton, gardener of Leigh-on-Sea, and his wife Elizabeth. Her older sister, Harriet, was my great great great grandmother, and the wife of Henry Downing, the subject of my last entry. Although Angelina is not my direct ancestor, I have probably spent more time researching her than many of those who are. So far, I have come close to solving her mystery, but one question remains – where did she go after 1891?
There was nothing unusual about Angelina's early years; she appears on the 1851 census with her family, on the 1861 census working in nearby South Benfleet as a servant, and on 1st May 1870, she married Henry James Collins, a labourer, at the local church, Leigh St Clements. She and her husband were witnesses at Harriet's marriage later the same year, but by the time of the 1871 census, they had moved to Plumstead (then in Kent, now in South East London) where Henry was working as a labourer on the army barracks, which were being extended.
But after this, both Henry and Angelina totally disappeared. I could not find any trace of them on the census or death records. Then Ancestry popped up a hint, suggesting Henry James Collins had emigrated to America. The censuses told me that he – if it was the same Henry James Collins – had emigrated in 1874, spent some time as a miner in Colorado, returned to England where he married Belinda Eliza Soper at Cheam Parish Church, then returned to America with Belinda, where he settled in Oregon and produced five children. I obtained the marriage certificate. The father's details were the same, making me more convinced I had the right person. But he had claimed to be single at the wedding. If Angelina had died, he would have had no reason not to declare that he was widowed. The more likely explanation, then, was that Angelina was still alive, and that this was a bigamous marriage. But where was she? There was no record of an Angelina Appleton marrying, living or dying anywhere in the world after 1871.
Two further records shed some light on what happened next. The birth register shows that a Rebecca Emily Denn Collins was born in Rochford (the registration district for Leigh, Southend, etc) in July 1874, mother's maiden name Appleton. I obtained the certificate, and as I suspected, Rebecca was registered the daughter of Henry Collins, and the birth was registered by Angelina. I had my suspicions – although it was stated that Henry was her father, there was no sign he was actually there, and furthermore the middle name "Denn" sounded like a surname to me. Had Angelina been having an affair with Mr Denn? Is that why Henry left? I hoped to find Rebecca in a future census as Angelina would surely be with her, but my hopes were dashed when I found that Rebecca died just two months later. The cause of death was given as "immaturity" (prematurity) and the death was registered by a neighbour of Angelina's family – again, no sign of Henry, though he was named as the father on the certificate.
Around this time, another sibling of Harriet's appeared in Southend. Harriet's first, illegitimate daughter, Lizzie, was living with her "aunt and uncle" Arthur and Leanor Moxon on the 1881 census. By 1891, Arthur Moxon had died, and Leanor was living with the widower of another sister, Lavinia, as nurse to their children. I obtained Arthur and Leanor's marriage certificate, and quickly found that she was Leanor Ann Appleton, born 1849 in Leigh, spinster, daughter of William Appleton. But why had I never seen Leanor before? There was no birth record, no baptism, no sign of her on any previous census.
Then the penny dropped. Leanor and Angelina were one and the same. The evidence:
Leanor appeared when Angelina disappeared.
Leanor's birth details were identical to Angelina's, except she was born a year later.
Leanor's husband was a soldier. Angelina was last seen living on an army barracks.
Leanor's signature was very similar to Angelina's.
My hypothesis is that Arthur Moxon and Angelina became rather friendly while Henry was working on the army barracks. Quite possibly Angelina became friendly with Mr Denn as well. When Henry discovered Angelina was pregnant, he left the country in a strop, and Angelina returned to her family in Leigh to have the baby. With Mr Denn off the scene also, Arthur decided he missed Angelina, and applied for a transfer to the barracks in Shoeburyness (near Southend), where they were reunited. Angelina could not divorce Henry, as a) he had done one and absconded to America b) divorce in those days was only for the rich, so she adopted a new name, a slightly changed date of birth, and became Leanor. This was actually not an uncommon occurrence in those days – with no option for divorce, many separated couples turned to bigamy, with the authorities often being reluctant to prosecute or investigate unless the original spouse was pressing them to. There was no legal requirement to register a change of name and no real way for the authorities to check that Leanor was being honest about who she was. Her relatives must have corroborated her new identity and she would have gone undetected. Far away in America, Henry Collins would have had no idea that she had remarried, and having remarried himself, would have been unlikely to object anyway.
This should be the end of the story, but it isn't.
After the 1891 census, Angelina/Leanor disappeared once more and this time it was without a trace. I have searched every Leanor and Angelina in the country. I have searched the passenger lists for a sign of her leaving the country. I have searched the workhouse, the asylum and the jail. I have searched the death and marriage records, the wills and the burials. I emailed the charity that look after the burial ground in Southend where Arthur Moxon and many of Leanor's other relatives are buried and received a copy of their database in return – Leanor is not there. I have searched the houses of her surviving relatives. I have read the Southend Standard at great length. I have searched her husband's relatives, I have obtained his will. I have looked at every Moxon in Essex. There is nothing, not one trace of Angelina after 1891. Seemingly, 43-year-old Angelina turned to dust. I can only assume that she changed her name again – but what motive would she have? Perhaps this Victorian bigamist has another misdeed up her sleeve, something that will one day be uncovered and be the topic of a future entry.
If you have a story idea or a blog that you'd like to share as part of this series, please let us know about it in the comments.