Guest blogger Morag Hughson (Wir Unst Family) is searching for the complete Unst Family Tree (Unst is the most northernmost island in Scotland). One day she came across a loose thread: Who was this Elizabeth Fordyce in the 1871 census of Scotland? Pulling the thread and analyzing the evidence, here's how she solved it, adding a new branch and several previously unknown grandchildren to the tree:
__________________________
To ensure I've found everyone who lived in Unst, I am going through each page of the census returns. In one page in the 1871 census I've come across an entry that has me stumped.
1871 Census
ROAD, STREET, &c., and
No. or NAME of HOUSE.
NAME and Surname of each
Person.
RELATION
to Head of
Family
CON-
DITION
AGE
of
Rank, Profession, or OCCUPATION
Males
Females
Burnside
Alexr Fordyce
Head
Mar
75
Fisherman
Catherine Do
Wife
Mar
75
Do Wife
Elizabeth Gaunson
Daur
Mar
38
Sea Capts Wife
Elizabeth Fordyce
Grand Dr
14
Catherine A Gaunson
Grand Dr
22M
George F Do
Grand Son
3M
I have found Alexander Fordyce and his wife Catherine (neé Jamieson) and their children, one of whom is Janet Elizabeth who married George Gaunson and had several children, the first two being Catharine Ann Gaunson and George Francis Gaunson, two of the three grandchildren listed on this census return.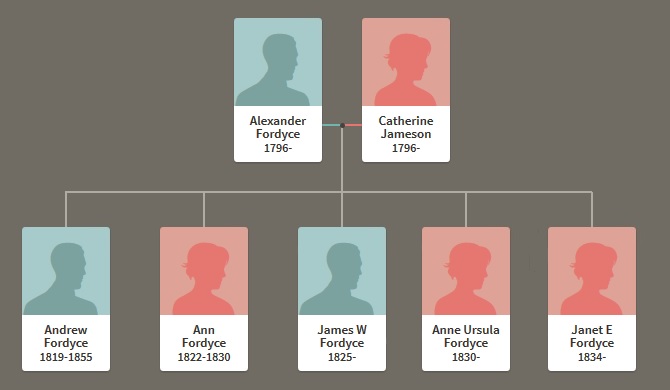 It is interesting to see the daughter listed as Elizabeth here, and not as Janet/Jessie as in all previous census returns. She is listed as Elizabeth in the 1881 return as well (where she and her children are again seen living in Burnside with her parents while her Sea Captain husband is, one assumes, away at sea). Did she adopt her middle name upon marriage or does her father, the head of the household and likely person to convey names to the census enumerator, prefer to call her that?
So, what of this other grand-daughter, Elizabeth Fordyce?
At this point in my research, I was aware that Alexander and Catherine had five children, two sons, one who dies as a youngish man, neither of whom have any children that I know of, one daughter Ann dies young, and two remaining daughters, one also called Anne Ursula, both of whom have children.
We've seen the daughter Janet Elizabeth, on the census return. Her two children have the surname Gaunson as per her married name. If the other grand-daughter was also hers, she would have been born prior to her marriage (which would explain the surname being Fordyce) and when Janet was aged 23. This is certainly a possibility.
The other daughter, Anne Ursula, married Charles Johnson in 1856 and had a daughter, Catherine Elizabeth Johnson in 1857. This girl is a grand-daughter of the correct age, and could be known by her middle name. The use of her mother's maiden name instead of her correct surname is not unheard of. This could be her, except, she's recorded on the census in 1871 as being with her parents and siblings in their house in Lerwick.
I have seen several examples of people recorded twice in one census, some cases of grandchildren recorded both at home with their parents, and also at their grandparents house. One assumes the child was visiting the grandparents in the evening when the enumerator visited, but then went home and so met the criteria of "everyone who sleeps in the house on the evening of the census." However, it is highly improbable that such a visit could happen in Unst by a grand-daughter from Lerwick.
Having ruled out that grand-daughter, I looked for all girls born in Unst (as this census return records she is) around 1857 (+\-2 years) with Elizabeth as a first or middle name (given the use of a middle name elsewhere in this household), listed in the 1861 census. There are 19 of them. My hope here was to find a girl in the 1861 census that is unaccounted for in 1871 and is maybe a grand-Neice or cousin of the family, who has just been rather sloppily referred to as a grand-daughter. However, none of the girls are unaccounted for in 1871. There is quite simply no-one called Elizabeth Fordyce born in Unst around that timeframe.
Having followed the premise that the name was wrong and that the place of birth was correct, I now changed tack. I started to search for Elizabeth Fordyce, born around 1857 anywhere in Shetland, which yielded nothing, and then born anywhere in Scotland. At this point out popped Elizabeth Fordyce, born 15 May 1856 in Edinburgh to parents James William Fordyce and Elizabeth McLeod. If this is James William Fordyce born in Unst, then she would indeed be a grand-daughter. I had not been able to find anything about James after he left Unst and was living in Edinburgh in 1851.
Having found this family through the grand-daughter Elizabeth, I could now see why. Her father James, is listed as having been born in Golspie, Sutherland and his wife Elizabeth McLeod is recorded as being born in Shetland. Following Elizabeth with her remaining children after James dies, it would appear that she was not from Shetland, it was she who was born in Golspie. It would appear that the enumerator has got the places of birth switched around (looking at the original image as well as the transcription on Ancestry). This is indeed James William Fordyce from Unst and his daughter Elizabeth Fordyce is visiting her grand-mother in Unst.

Two wrongs don't make a right, and in this case the two wrongs
Elizabeth Fordyce (grand-daughter) was not born in Unst, but in Edinburgh
James William Fordyce (son) was born in Unst and not in Golspie
left me with some searching to do, but I found them in the end!
The added benefit of locating this mystery grand-daughter was also the finding of the missing son and thus several more grand-children who are Unst descendants, so well worth the search.
*******************************************************
You can read Morag's original post (and comments) at https://unstmorag.wordpress.com/2016/06/20/who-is-elizabeth-fordyce/.
If you have ideas or stories to share in our "How I Solved It" series, please let us know!