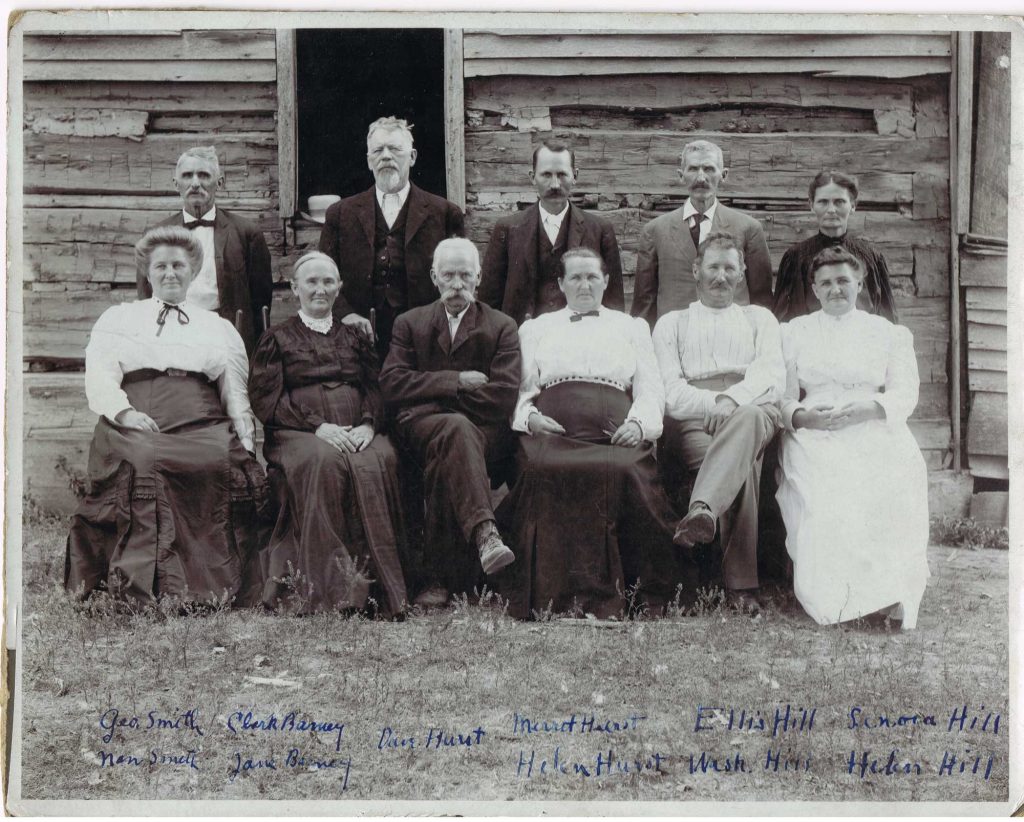 My grandmother was just four years old when her mother died. Grief-stricken and probably keenly aware of his own mortality, my great-grandfather sat down and wrote "Geniology [sic] of Hills as known by Dr. T.C. Hill written for benefit of Anna Helen Hill."
"Your Great Grandmother Hill [sic] name was Jane Sartor Hill," T.C. says, and that's all he has to say about the Sartor line. So of course, I investigated…for years. It was the first genealogy project I worked on with my dad, who passed away last Sunday. In honor of our first research project together, here's what I found.
Jane Sartor Hill died 15 February 1901 in Freelandville, Knox. Co., Indiana. Jane's death certificate shows that she was the daughter of GW Sartor (born in "Carolina") and Jane Scott (born in Indiana).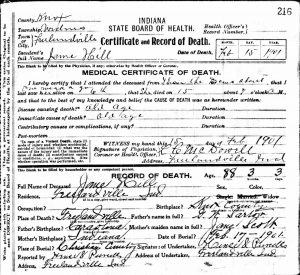 Ancestry.com, "Indiana, Death Certificates, 1899-2011," database Ancestry.com (http://www.ancestry.com : accessed 21 Aug 2018), entry for Jane Hill 15 Feb 1901; citing Indiana State Board of Health. Death Certificates, 1900–2011. Microfilm. Indiana Archives and Records Administration, Indianapolis, Indiana.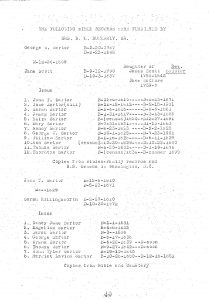 A 1954 transcription of Family Bible Records of Knox County, Indiana shows Jane Sartor (Hill) as the second child of George W. Sartor and Jane Scott, who were married Christmas Eve in 1809. Jane Scott was the daughter of James Scott, Revolutionary War Soldier, and Jane McClure. The transcription has nothing more to offer about the Sartor line. It says only that George W. Sartor was born 20 February 1787 and died 23 August 1848.
According to The Sartor Search, by Juanita Sample Taylor, a George Washington Sartor born 1787, married to Jane Scott, was the eighth child of John Peter Sartor who was born 1733, and died 1795 in Union County, South Carolina. The following is a transcription of the list of children on page 9:
John Peter Sartor b. 1759/1822 m. Sarah Hughes 1779
William Sartor b. 1760/1829 m. Rebecca Hughes
Sarah and Rebecca were sisters and daughters of Thomas and Sarah Hughes.
John's first wife died when William was an infant
Elizabeth (Betsy) b. 1767 Va. m. Joseph Hollingsworth
Mary Ann b. 1769 m. Thomas Hollingsworth
Daniel Fances (?) (Trammell)
Hannah b. 11-28-1773 m. Christopher DeGraffenreid
Caroline m. Thomas Shockley
George Washington Sartor b. 1787 m. Jane Scott
It is here the Sartor trail becomes somewhat muddled. Ms. Taylor unfortunately didn't provide copies of documents, footnotes, or much in the way of evidence with which her research could be re-traced and documented. (In her defense, it was neither expected nor easy with the publishing technology at the time.)
The first page of Chapter 1 (page 6 of the book) quotes a letter attributed to William Sartor who would have been a brother to my George Washington Sartor. The letter says:
The Sartors came from Wales in 1687 to Roanoke, Va. My grandfather attended law school in (name illegible) and while there met my grandmother who, I am told was Miss Mary Gray. The Grays were very prominent people. My Mother died when I was an infant. I want the people who come after me to know this little that I have gathered. My Grandfather after marrying came to South Carolina and settled on the Broad River and turned his attention to farming. He was also in the war with the Indians. My father, John Peter Sartor was born in 1733. He had one sister, Elizabeth.
This letter has given me a merry chase over the years trying to [re]document The Sartor Search, and I have still not resolved it all. I would dearly, dearly love to find the original letter and perhaps find Ms Taylor's research files. She died before I could contact her and I have not yet connected with any of her descendants who might have inherited her files.
Proof that child #8 above is indeed my George Washington Sartor was found in Volume L of the Register of Mesne Conveyances of Union County, South Carolina in which the following was recorded on 12 October 1812: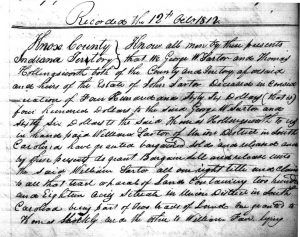 Knox County
Indiana Territory
Know all men by these presents that we George W Sartor and Thomas Hollingsworth both of the County and Territory aforesaid and heirs of the Estate of John Sartor Deceased… do grant bargain sell and release unto the said William sartor all our right title and claim to all that tract or parcel of land…situate in Union District in South Carolina being part of two tracts of land one granted to Thomas Shockley and the other to William Farr lying on Fishdam…
The dower release was also noted as follows:
I Daniel McClure…do hereby certify unto all whom it may concern that Jane Sartor the wife of the within named George Washington Sartor did this day appear before me and…did declare that she does…relinquish unto the within named William Sartor…her right and claim of dower…
This places my George Washington of Knox County, Indiana in Union District, South Carolina. I have spent many hours following the Sartor family from South Carolina, to Viriginia, to Maryland and—just to ensure I've done a reasonably thorough search—New Jersey, New York, Pennsylvania, Delaware, North Carolina, Tennessee, Georgia, Alabama, Mississippi, Missouri, Texas and a few other states as well.
Long story short: During the course of my Sartor research, I connected with cousins who are also interested in our origins. One of them was a direct male descendant who submitted his DNA for testing and linked our Sartor line not to Wales (as indicated by The Sartor Search letter) at all, but to Germany!
Looks like I have a lot more paper hunting to do.