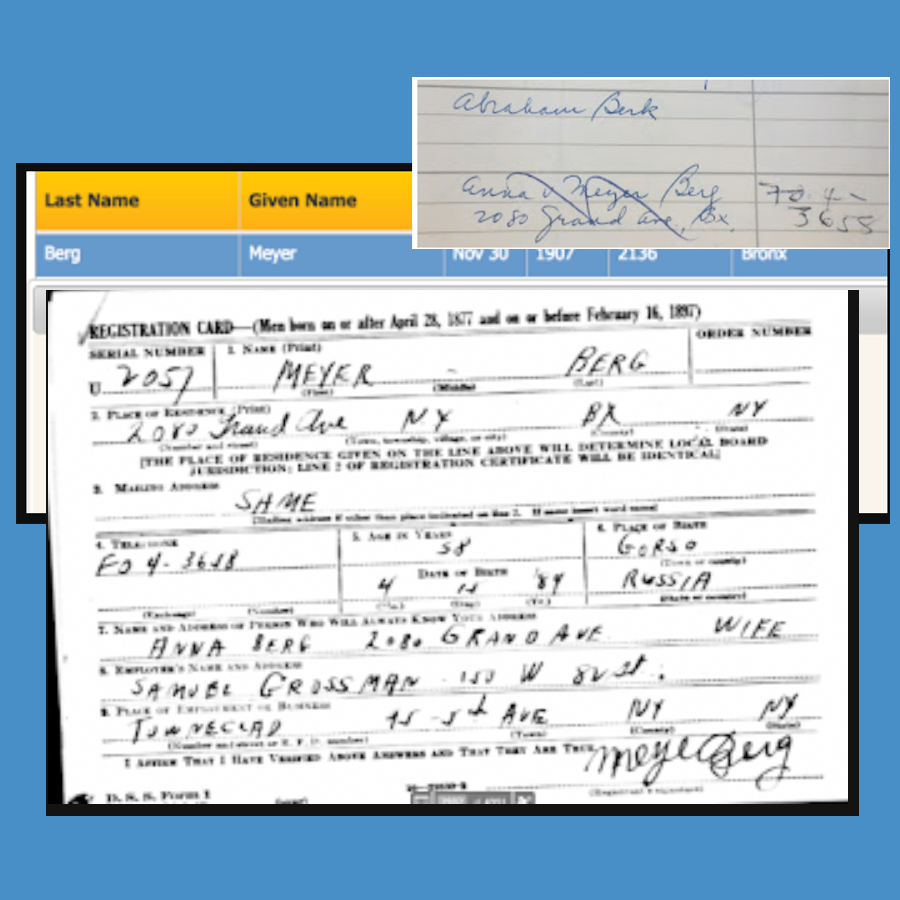 Marian Wood, blog author from the website Climbing My Family Tree, has shared this blog as part of our ongoing "How I Solved It Series".
This blog tells how she used her mother's address book as an unconventional resource that we don't often think about. It's a good reminder to look at everything when going through a parent's belongings after they pass.
Treasure Chest Thursday: Mom's Address Book Solves a Burk Mystery
Mom's old address book turned up the other day, quite by accident. When she was alive, I never saw this address book, so I never asked who these people were. As soon as I turned the pages, however, I knew her handwritten entries (from the 1950s) were going to help me solve at least one big family mystery.
Interestingly, the mystery is not in her family tree but in my father's Burk family tree.
My paternal grandpa Isaac Burk (1882-1943) had two brothers that I know of: Abraham Berk/Burke (1877-1962) and Myer or Meyer Burke (dates unknown). The brothers have also used Birk as a surname spelling over the years.
In the 1905 NY Census, I found Grandpa Isaac (shown incorrectly as Isidore Burke), a carpenter living as a boarder with his future in-laws. The other boarder in the same apartment was Meyer Burke, a cutter (and Isaac's brother, I presumed). For years, I searched for Meyer, but never could find him again.
Meyer Berg's WWII draft registration
Now take a look at the address book snippet at top. Directly under Abraham Berk in Mom's address book is a couple, Anna & Meyer Berg, living in the Bronx. That's where many of Dad's relatives lived in the 1930s-1950s.
It's not much of a leap to guess that Meyer Berg is the brother of Isaac and Abraham–meaning he's my great uncle, an ancestor I've tried to trace for a decade. Mom knew where he was all along!
Meyer Berg's WWI draft registration
Keeping Mom's address book at hand, I quickly dug deeper and found:
Meyer Berg's marriage info from ItalianGen.org
Meyer Berg's WWII draft registration card shows him at 2080 Grand Ave. in the Bronx, with the same phone number as in Mom's address book. An exact match!
Meyer Berg's WWI draft registration card shows him as a cutter, born in "Gorsd, Russia." That's an approximate spelling of Isaac & Abraham's hometown in Lithuania.
Meyer appears to have been born about 1883 and I know he married in 1907. Needless to say, I've just sent for his marriage documents.
Meyer was naturalized in about 1920, according to the 1925 NY Census. I'm trying to locate those documents now.
Other entries in Mom's address book match exactly the names of Meyer's children and their spouses.
Lesson #1. Be really flexible about spelling, Soundex style. Burk, Burke, Berk, Birk, Berg. Three brothers with names spelled differently in Census data and other records.
Lesson #2. Ask relatives now about unfamiliar names in old address books. Before it's too late to ask! Maybe the answer will help solve a family mystery. Or if you have a relative's old address books, read them carefully to see who's who and where and when.
If you have a story idea or a blog that you'd like to share as part of this series, please let us know about it in the comments.