A few of our new users have asked "How do I start my family history research?" Thanks to partner hints and the web clipper, it's much faster and easier start family history research with RootsFinder than other software programs. Here's how you can begin building your family tree.
1. Start family history research fast by using partner hints
Signing up for hints from RootsFinder partners helps you get started fast because we notify you when there's a potential matching record at one of our partner sites; you don't even have to go looking for it. Right now you get hints from FamilySearch and Findmypast. We'll have more partners soon! (FamilySearch content is free. Findmypast requires a membership.) The hints cover a broad range of time periods and geographic locations. If there are particular areas of your family tree you need information about, please let us know so we can prioritize our partnership efforts.
2. Install the RootsFinder browser extension for Chrome
The RootsFinder browser extension for Chrome saves tons of time on data entry. You'll want to install this browser extension and then use Chrome when you're doing your research online. (Other browsers may be supported in the future, but for now the web clipper only works in Chrome) To install it, click "Apps" from the left-hand menu in RootsFinder, or search for "RootsFinder" in the Chrome webstore.
To learn more about the web clipper, check out "Adding and using RootsFinder Web Clipper for Chrome" in the help center.
3. Sync people with FamilySearch
When you sync your RootsFinder tree with FamilySearch, you get the benefit of learning from and/or accepting other people's research without having to risk your tree information being changed. This is a really fast way to start family history research! You can compare your information side by side with FamilySearch and then copy records back and forth as you choose.
To do this, first you'll sync individual people by matching them with a corresponding person in FamilySearch trees. Then you'll compare your RootsFinder tree information with the sources, media, and data in the FamilySearch tree. Copy new sources, media, and data down to your RootsFinder tree if you agree with them. (Likewise, you can send information back to FamilySearch from your RootsFinder tree if you have information or media you want to contribute to FamilySearch as you find new information during the course of your research.)
Read more about FamilySearch syncing in this article in the help center: FamilySearch Integration Part 2: Sync with FamilySearch.
4. Focus on a research goal
The best way to build your family tree is to focus on a particular research objective. Pick one person from one family line that you want to extend. Analyze what you already know about them. Do you know their name? Do you know where they were born or where they died? If you don't know anything about this person you want to find, start with information about their children. Do you know their children's names? Where did their children live? Where were they born? Start with what you know and work backwards.
For example, if you're looking for your grandmother's father, and you don't know his name or where he was born, you want to start with what you already do know about your family. For example, when and where was your grandmother born? Chances are good that your great-grandfather lived in that area at the time. So you might search for your grandmother in census records. You could also look for a birth record for her, an obituary, or death certificate.
We'll talk more about specific record types later, but an excellent source for information about what kinds of records are available in a certain place or time to start family history research is the FamilySearch Wiki. There's an abundance of information to help you understand what records will help you start family history research specific to the time and place you're looking for.
Pro tip: keep track of the sources you've searched. You may want to start a research calendar listing the source you searched, what you were looking for, and notes about what you found (or didn't find) in the process. RootsFinder lets you create research calendars in rich-text notes which can then be searched. Tag people as you research them so you can remember where you left off in the future!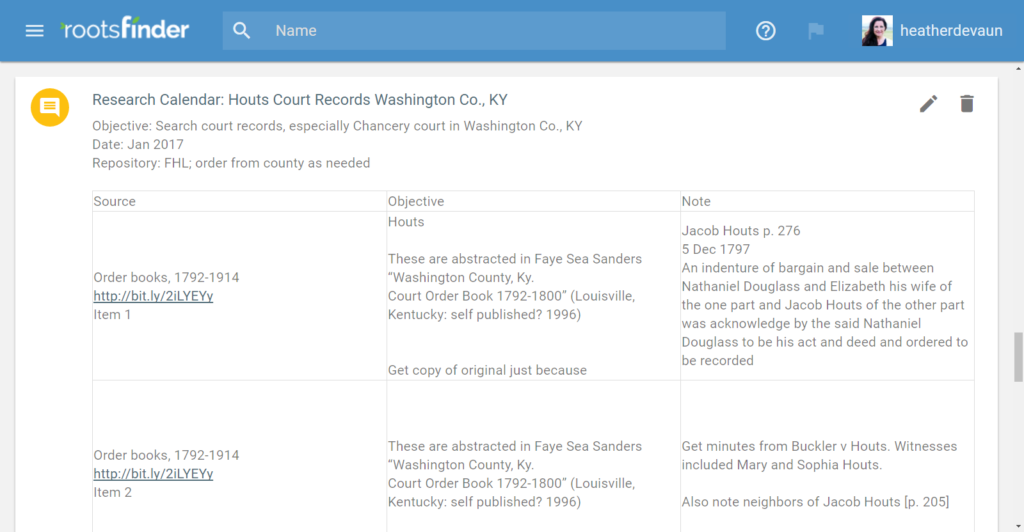 Bonus pro tip: as you research, write notes to yourself as if you were telling your family about what you found. You may (or may not) want to share your findings with your family later. Whether you share your research or not, the process of writing out your thoughts helps you analyze your discoveries and reminds you of your thought process.
5. Start your search with FamilySearch (because it's free and quite comprehensive)
When you're ready to start searching for new sources, we recommend you begin with FamilySearch because it's free and quite comprehensive. There is a vast amount of information available online for free around the world.
When you find a record you want, go to the record summary. Use the web clipper to gather all the information and tag it to your tree. Go ahead and tag everyone mentioned; it will save you tons of time!
Pro tip: start your search very specific. Look for exact names in exact places within one or two years of the date you believed them to be in the area. Then you can gradually "loosen" your search up a bit by searching a wider date range, a wider geographical area, and alternate name spellings.
6. Search other websites
The RootsFinder web clipper will automatically copy information from the index page of records at Ancestry.com, American Ancestors, FamilySearch, Find A Grave, and My Heritage. We're "training" the clipper to read information at other sites as well. If there's another site you want us to "teach" the clipper to read, please let us know.
If the clipper doesn't automatically read information from the website you're using, you'll just enter the information into the clipper manually the same way you would if you were on a person page at RootsFinder. You can read more about adding events here: http://support.rootsfinder.com/article/10-add-events-and-facts-to-a-timeline.
7. Review the information you've found
An important part of researching your family history is evaluating the information you've found. Does it make sense? Look at the dates and locations. Have you made any errors? Using the web clipper will reduce typos and increase your accuracy, but it's still important to make sure you've tagged the right people.
When you're confident that you've added the right information, you can now correlate evidence. Evidence is defined as a tentative answer to a genealogical question. So in the example where you were looking for your grandmother's father, does the information you've found answer the question? Is there conflicting information? One source might say her father's name was G.W. Smith; another source might say it was George Smith. You'll want to make sure you've done a reasonably thorough search for the answer and eliminated and/or explained any discrepancies.
Use the RootsFinder evidence analysis report to compare information in sources. (You'll find it in the toolbar under the header on a person page) If/when you find conflicts, look for an explanation. Has there been a mistake? Is there a deeper story? When sources conflict, it's typically reasonable to consider the source(s) provided by the person who was most directly involved in the event at the closest time to the event as the most accurate. Looking at the sources side by side will help you determine the best answer.
These tools and tips will help you start family history research at RootsFinder. You'll continue your research in the same way, building upon what you know as you continue to make new discoveries. And if you think of things we can do to make RootsFinder better along the way, please let us know!