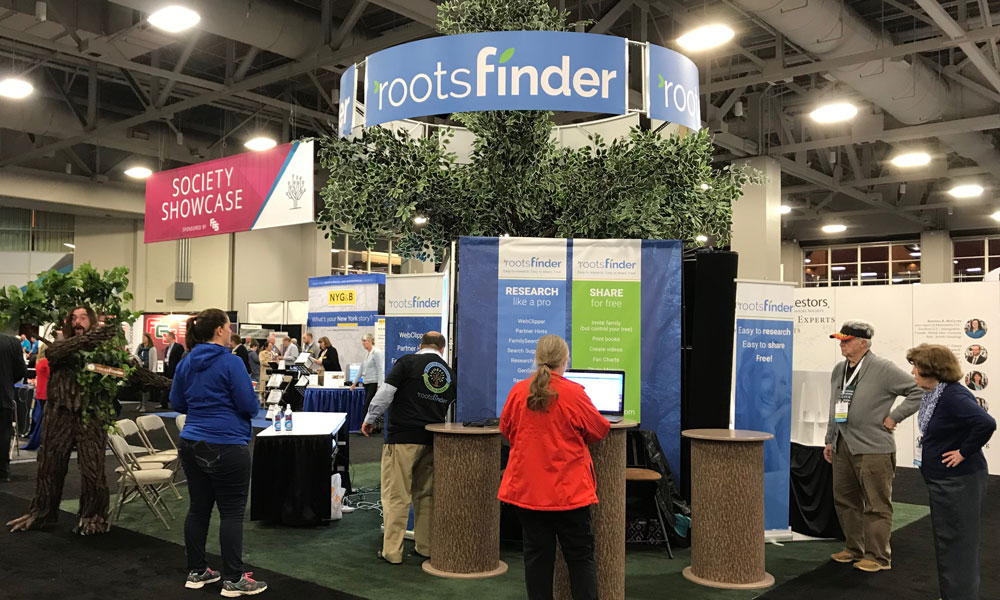 Thanks for visiting the RootsTech booth!
Wow! What an amazing week we had at RootsTech 2018. It was so great to meet all of you who came by the booth. We're so excited to share RootsFinder with you and help you bring your genetic family history research together with your traditional family history research…and also make it easy to share with your non-genealogist family members! We had so many meaningful conversations with new users about their family history. It was so great to be able to spend one-on-one time with you! We hope you enjoyed it as well!
Power Tools for Today's Genealogists Presentation
Some of you have asked for a copy of Dallan's presentation slides from the Power Tools for Genealogists presentation. Here's a PDF for your reference (opens in new tab):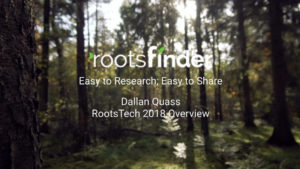 For those #notatRootsTech, Robert the Tree brought cheer to every photo-op and helped us announce our new DNA research tools. Although the tools are still in experimental mode, it was wonderful to demonstrate how they work hand-in-hand with RootsFinder's research logs, FamilySearch integration, hints, and sharing tools.
Grow Utah 2018 DNA Innovation Contest at RootsTech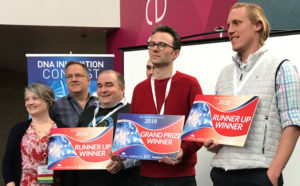 We were thrilled to be a finalist in the Grow Utah 2018 DNA Innovation Contest. Three winners were selected "For innovations that improve the use and reliability of DNA methods and research in the fields of ancestral history, personal history and family health history." Here's Dallan accepting our award for Runner-Up!
In case you haven't tried them yet, the new DNA tools allow you to upload your DNA analysis data from GEDmatch, then tag kits to your family tree. The Segment View shows blocks representing your chromosomes and the segments you share with matching kits. The Triangulation View shows clusters of related kits. As you start to tag kits to your family tree, you'll color code them according to where they fall in your family tree, and you'll begin to see how people are related to you. Then you can reach out to your matches, share documentation, and continue to grow your family tree.
Here's the intro video, in case you missed it:
Thanks again to everyone for their suggestions and feedback on how we can take DNA tools for family history to the next level. We're going to continue to improve and work to make RootsFinder easy to research and easy to share.
See you next RootsTech!